Christmas in Milan looks like...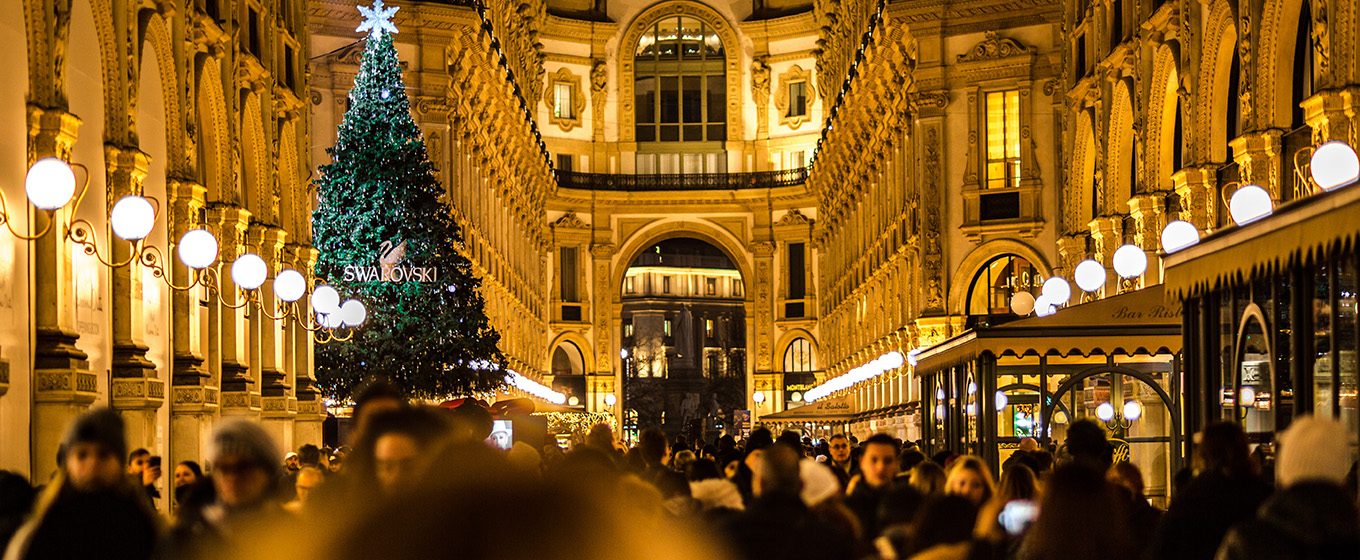 by Lisa Gunnarsson
In Milan, the Christmas season with all its glory and wintry cosiness really begins December 7, on the day of Saint Ambrose, Sant'Ambrogio, the patron saint of the city. This is when the acclaimed Christmas tree in Duomo comes to life with a big lighting-up ceremony and you will find yourself enchanted by performers, dancers and Christmas carols. But this is not the only thing that makes Christmas in Milan so special. Besides the beautiful tree in Piazza Duomo, there is much more to see. So, that is why I present you with my guide to what Christmas in Milan looks like...
See the famous Christmas tree of Piazza Duomo
Ok, first things first, the Christmas tree is amazing. Do not spend your Christmas holidays in the city without going there to see it at least once and snap some photos of it. Even better, you don't have to feel guilty; this year Milan has put a lot of effort into using low-energy consumption LED lights, sustainable materials and reusable structures as a current theme throughout the various projects that light up the city.
Tip: the tree will remain lit until January 6, 2023.
Soak up the atmosphere at the Mercatini di Natale
Mercatini di Natale translates to Christmas markets, and this is one of the biggest reasons why spending your holidays in Milan is truly wonderful. There are many Christmas markets in the city to explore, and some of them you might even bump into without planning for it. But there are two worth mentioning that you should make sure not to miss.
Mercatino di Natale in Piazza Duomo
The first charming Christmas market will perfectly align with your plan to see the Christmas tree since it is right there, in the centre of the city: Piazza Duomo. Here you will find everything from decorations, and clothes to artisan crafts. Not to mention the huge selection of things to eat and drink with multiple stalls representing different regions of Italy, selling both savoury food items and sweets for you to bring home or to snack on right there on the spot.
Tip: Open until January 6, 2023, from 08.30 to 22.00.
Pay a visit to the city's most famous Christmas fair: Obei! Obei! (aka Oh Bej Oh Bej!)
This is without a doubt the most traditional Christmas fair in the city, and the locals also know it as the Fiera di Sant'Ambrogio since it is arranged in honour of the city's patron, Sant'Ambrogio. One of the things that makes it so unique is its long history, supposedly dating back to 1510, deriving its name from the Milanese children's exclamations of joy when they received gifts from the patron.
When entering the market, you will feel transported to another place in time as it is set up in the grandiose space of Castello Sforzesco, a mediaeval fortification built in the 15th century. Immersed in the crowded and lively market, you will find, amongst other things: traditional food and Christmas delicacies; antiques, books, toys and souvenirs. Not to mention the irresistible warm mulled wine to sip on while walking around.
Tip 1: Open from December 7-11.
Tip 2: Make sure to try the delicious freshly roasted chestnuts, in Italian: caldarroste.
Fun fact: "Oh bej! Oh bej!" is Milanese dialect for "Oh belli! Oh belli", which can be roughly translated to "Oh beautiful! Oh beautiful!" (Italian-speaking or not, I think we can all agree that it sounds much better in Italian).
A must: eat some Panettone
This is as Milanese as it gets. The Panettone - an Italian sweet bread - is something you can't miss out on as it originated right here in the city. You will soon notice how the grocery stores, seemingly from one day to another, get filled up with all these, particularly looking packages: big and small, squared or rounded, all beautifully looking like ready-to-go Christmas gifts. It is usually made with raisins, candied fruit peels, and almonds but there are other variations too, such as with chocolate. It is the perfect item to bring to a Christmas get-together, to share with your friends.
Tip: My favourite bakery in the city is Le Polveri. I can't emphasise enough how great their bread and baked goods are. So, it is a solid choice for trying a freshly baked Panettone.
Address: Via Ausonio 7, 20123 Milano MI
Fun fact: Since 2013, there is even an event held in Milan that awards the Best Traditional Panettone of Italy.
Try the Barbajada - the (forgotten) Milanese drink with coffee and chocolate
This hot drink will keep you warm throughout the cold season: it is the perfect combination of coffee (to stay awake when studying for exams) and chocolate (well, chocolate. Do I need to say something more?). Today, it is rather unknown but it has an interesting history of huge popularity, deriving right here in the city. To find out more about it and see where it got its peculiar name from read here. PS. The link also contains a recipe for those who want to try making it at home!
Tip: if you don't want to make it yourself, you can try it here: Torrefazione Moka Hodeidah.
Address: Via Piero della Francesca 8, 20154 Milano MI
For the best views: take the tram
Milan truly lights up during the holiday season and a great way to experience the city's festive decorations and get around, besides walking, is to hop onto the public tram. It is a great option if you also want to get on and off at important sights (or perhaps when spotting a cosy Christmas market) since the tram regularly stops and your ticket will be valid 90 minutes from buying it. For 2 euros, you just bought yourself a tour around the city!
Tip: to see the historic streets of the city, choose either tram line 1 or 2.
Altogether, while this guide certainly does not cover all the festive activities you can experience, Milan is a wonderful city during this time of the year. I highly encourage you to ask your Milanese friends, do some google research or just take a break from studying to get out of the apartment and explore what is happening in your neighbourhood. Because you certainly deserve that break, and it is important to dedicate time to moments that will bring a smile to your face.
So, dress up in your warmest and puffiest jacket and get outside - to find out what your Christmas in Milan looks like...
Happy holidays!