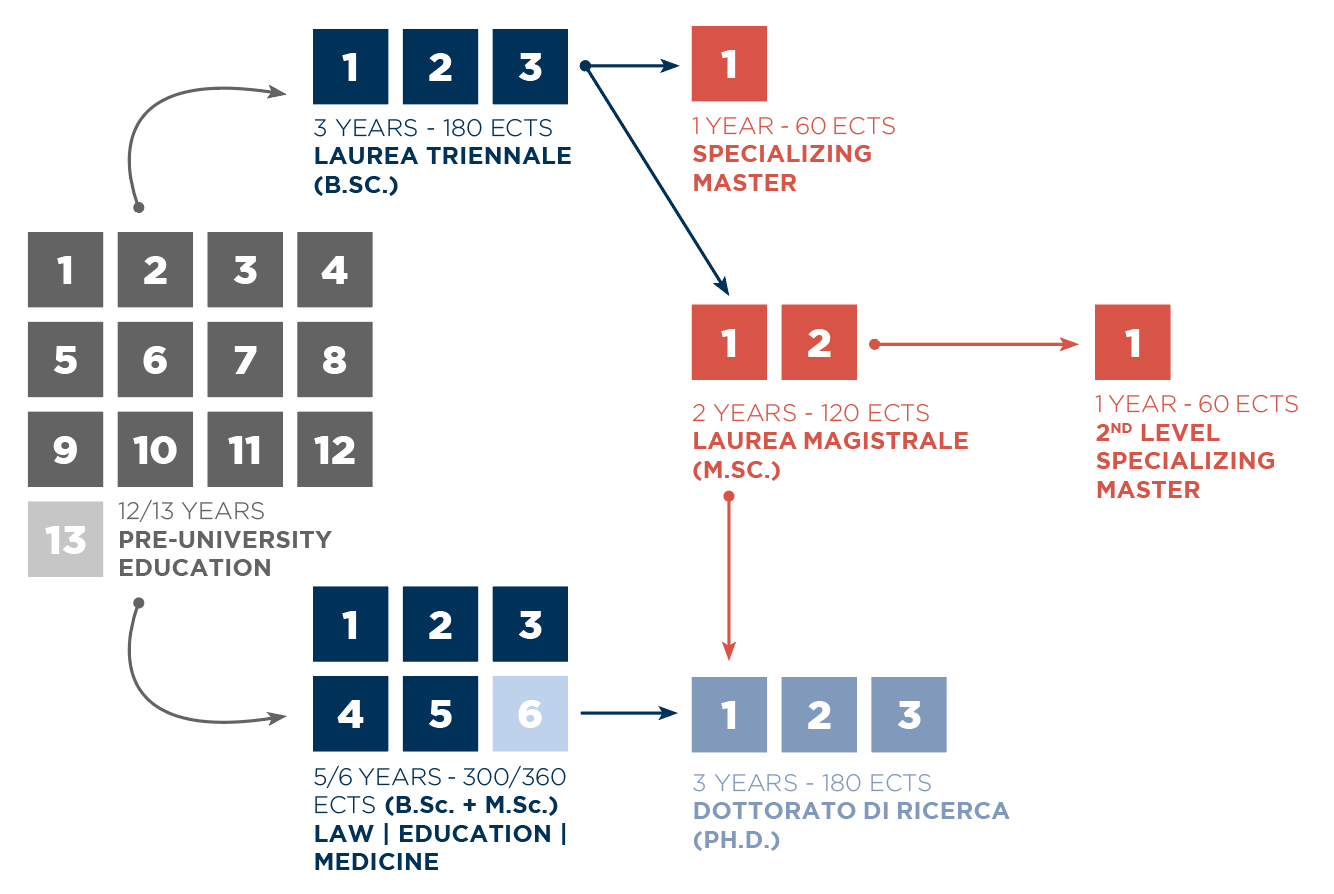 Undergraduate degree/Bachelor of Science - B.Sc. ("Laurea Triennale e a Ciclo Unico")
Course duration: 3, 5 or 6 years
ECTS/Credit points: 180, 300 or 360
Aims to provide a solid foundation in the core subjects as well as more specialized, professional training. Students holding a 3-year undergraduate degree or Laurea a Ciclo Unico can either enter the job market or continue their studies by applying for a Master of Science or Specializing Master programme.

Graduate degree/Master of Science - M.Sc. ("Laurea Magistrale")
Course duration: 2 years
ECTS/Credit points: 120
Undertaken after the undergraduate degree and aims to provide rigorous, advanced training in more highly specialized areas.

Specializing Master ("Master Universitario")
Course duration: 1 year
ECTS/Credit points: 60
A professionalizing programme providing practical knowledge and training through coursework, consultancy projects and internships. These masters programmes within the Italian education system do not generally allow access to a Ph.D. programme upon completion of the Master. Recognition of the Specializing Master towards a Ph.D. programme outside of Italy will depend on local state regulations or individual doctoral programmes.
Doctoral Programme - Ph.D. ("Dottorato di Ricerca")
Course duration: 3 years
ECTS/Credit points: 180
Undertaken after the completion of a Master of Science or an equivalent graduate degree. It aims to develop the professional competence to carry out high level research in manufacturing and service companies, public bodies and universities.
The Italian grading and credit system
The Italian grading system for exams registered in the study plan ranges from 18/30 to 30/30. The highest mark is 30/30eLode (with high distinction). All the exams with a score lower than 18/30 are considered as not passed and thus are not registered on the transcript of the academic records.

The grading system for the final grade (graduation mark) ranges from 66/110 to 110/110, the highest mark being 110/100eLode (with high distinction).
ECTS (European Credit Transfer System) is a numerical value allocated to measure courses' workload. The workload includes lectures, practical work, seminars, tutorials, fieldwork, home study and examinations or other assessment activities.
Degree programmes are usually structured with a workload of 60 ECTS per year:
1 ECTS corresponds to 1 CFU (Credito Formativo Universitario)
1 CFU corresponds to 25 hours of work and home study