The new age of internationalisation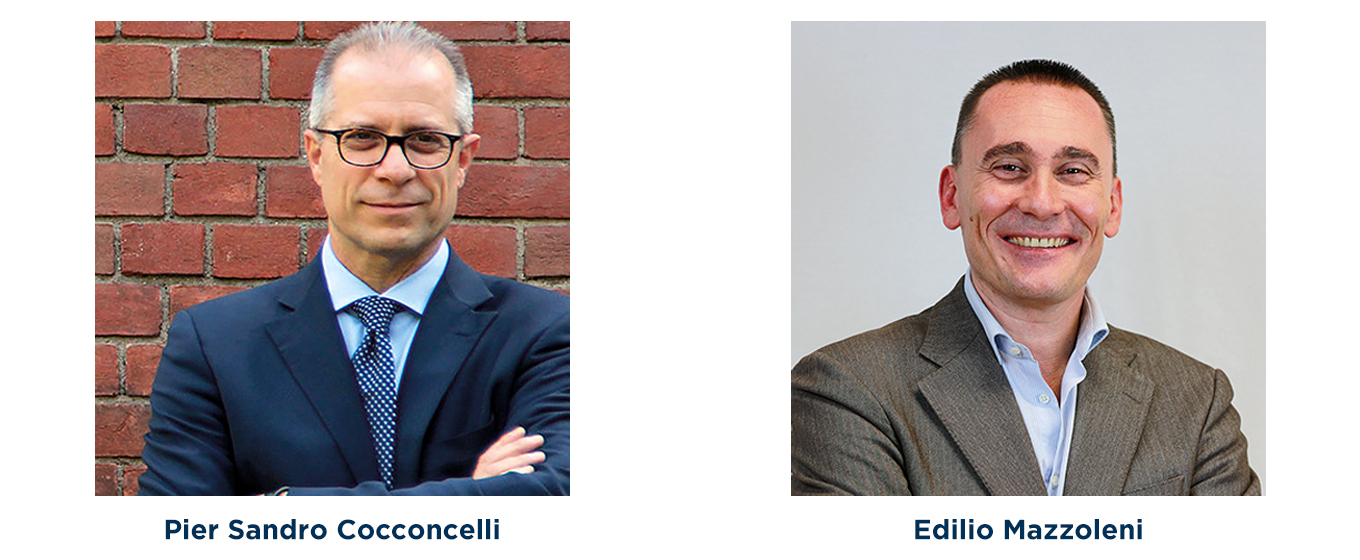 During unprecedented times for higher education amidst a global pandemic, the question of internationalisation, one of the cornerstones of modern education, remains as relevant as ever. As Università Cattolica del Sacro Cuore centenary year comes to a close, we discussed the past, present and future of internationalisation as we know it with Pier Sandro Cocconcelli - Professor of Food Microbiology, Vice Rector for internationalisation projects, and President of the Centre for Higher Education Internationalisation at Università Cattolica - and Edilio Mazzoleni, Director of Global Engagement and International Education at Università Cattolica.
The celebration of the 100th anniversary of Università Cattolica del Sacro Cuore recently took place. The University throughout its history continues to open its doors in this constantly changing world. Considering our past and our mission, what will be the future pillars of internationalisation at Università Cattolica?
Pier Sandro Cocconcelli: The story of the internationalisation of our University goes back to the years of its foundation. Our founder, Father Agostino Gemelli, proposed and reached the goal to create the first International Federation of Catholic Universities (IFCU), which at the beginning was composed of a limited number of institutions. The number gradually increased and now there are 700 members part of this Federation.
We must consider the outlook that our founder had back at the beginning of the 1950s. It was just a few years after the end of World War II and there was still a lot of tension between the European countries, but the message of Father Agostino Gemelli was clear - the role of the University is to educate the younger generation and prepare it for the society, to serve ideas, to foster international collaborations, honesty and comprehension between different people. I think this is still a very important message in a different context, the context of a European Union and Italy within it. We must continue this process.
If you had asked this same question three years ago, my answer would probably be to continue increasing student mobility, English-taught courses and to promote internationalisation at home, which are all some of the pillars of internationalisation. However, we had a complete change of paradigm because of the COVID-19 pandemic that completely modified how we manage higher education. The pandemic poised huge limitations on internationalisation. In the university context, one of the first victims of COVID-19 was student mobility, which was almost abolished in the last couple of years. But the human intelligence and our ability to react rapidly in crisis situations are astonishing. The entire university system, Università Cattolica in particular, was extremely efficient in modifying our approach during the pandemic. This led to a situation in which we realised that internationalisation could use new tools.
In the future, we must face two major challenges. Firstly, to continue the internationalisation process. We cannot forget that physical mobility is still one of the cornerstones of internationalisation. An experience abroad is not just about attending the courses, but it is also the daily life in a foreign country, which is important in a non-academic education context of the younger generation.
Secondly, we must improve the process of internationalisation at home. By increasing the number of incoming students and visiting professors, we could create an even more international environment inside our classrooms. Both points are a part of the strategy that we are designing for the next few years.
On the other side, we can use new tools. Now we are designing different possibilities in this new form of education, we are looking at what is the impact on the student's education and at the end of this year, we will conclude if this system was efficient enough or as efficient as the standard classroom education. Undoubtedly, our students and professors have acquired the ability to use these new tools of education. For example, I just finished an international class where students of my course were able to discuss the same topics with a slightly different outlook from other students in Boston and Santiago. Before the pandemic, this was not even in the mind of the professors. The impression I got after the end of this course was that the students were enthusiastic about the fact they were able to interact with other students internationally. The way I see it, we must take advantage of the two different forms of education and the integration of the different modalities.
Edilio Mazzoleni: The first phase of our internationalisation strategy focused on increasing the number of students going abroad and the number of international students coming to study at Università Cattolica. The main drive was to develop a global community. Once you achieve that, you hopefully get a better perception of what it takes for the entire community - academic and professional staff, to become a real international University. Over the last six years, we increased the number of international students by 59%, whereas the number of outbound students going on our study abroad programmes increased by around 30%. Hence, the first phase was successful. In this first phase, we also created the Centre for Internationalisation of Higher Education (CHEI) to support the internationalisation process within the University.
As for the next phase, I believe we should firstly focus on what it means to be a truly international University. We should raise the quality and increase the number of faculties that are exposed to an international environment, either abroad or on campus. For instance, the average number of international students in our English-taught programmes, if we take the bachelors, is around 50%. That is 50% international students and 50% domestic students. Therefore, a possible question that we might address is - what does it mean to teach such a class? Do our faculties need to acquire a different set of skills and competencies to deal with such a diverse classroom? If so, what should be done to address this issue? Are the services provided designed for an international audience?
Secondly, we should set up new strategic partnerships with other universities around the world to acquire resources that a single university might not have to become more internationalised. For example, due to the pandemic, we updated our IT systems. Is that enough or do we also need to acquire different methodologies to deliver our courses? That itself is a big project.
Additionally, if we attract more international students, do we also need to change the range of services that we provide to our student community? There are still some services that are more tailored for domestic students only. If we want to reach domestic and international students, we might need an intervention on these services.
Therefore, the second phase of our strategic plan, if we set our anniversary as the threshold, will be focused on making the entire University international. I believe that most of these stances should be in that plan to move on and make an Italian university such as Università Cattolica a truly global institution.
Given the unprecedented times that we are living in, it's clear that internationalisation has not reached its peak. It needs to be studied and explored, to be constantly interpreted and designed in the light of the social, technological, political, and educational changes we are facing. What objectives has the University set itself to continue guiding a constantly evolving process such as internationalisation?
Pier Sandro Cocconcelli: That is a good question, but a complex one to answer. The Rector in his speech of the centenary inauguration highlighted the need to continue the process that led this University over the last ten years, that is, the need to continue improving the number of English-taught programmes and the number of students and visiting professors, both inbound and outbound. This is a process that is a part of the University strategy for the coming years.
We must take into consideration the complexity of our University. We are not only the biggest non-public University in Europe, but we are also a University that has programmes with completely different topics to be addressed. They share some common principles, but clearly, the education of a lawyer is quite different from someone studying physics or medicine. We have a high variety of programmes, 12 faculties, five different campuses and some of them are focused on different disciplines and topics. Flexibility should be one of the pillars of our strategy. For example, for my students of the Food Sciences course spending a period of study abroad in a laboratory somewhere in Europe or the USA is a big experience, but it will be very structurally different from a student of Education. Overall, we have increased the proportion of Università Cattolica students that spend a period of their studies abroad.
Another focal point would be to increase the number of students arriving in Italy. It's not because we necessarily need more students, but because we are looking for talented ones. The selection of students is fundamental, and we search for the most talented students regardless of whether they were born in Italy or not. In the end, the quality of the University is measured not only by the academics but also by the students. The level our students acquire has a stronger impact on the perception that the University has in society.
When I walked down the stairs of the Piacenza campus and heard people speaking in Spanish and English with American and French accents, it was, from my point of view, a big success for us. This highlights that we are on the right track to creating a truly international environment within our campus.
Edilio Mazzoleni: I believe the pandemic was, of course, a negative point not just for the University but for the entire world. But at the same time, it was an opportunity. We were able to update most of our IT systems and classrooms, and now we can say that we have the technology to deliver digital courses. That's a great achievement. However, only a small percentage of faculties could deliver an online course. An online course is not just about the means, such as the camera and programmes that support digital courses, but it is also about the methodology which supports the delivery of the course.
Very likely in the future universities will be focusing on how many of their courses could and should be delivered digitally. It might seem like a silly question but it's not. Could every course be delivered digitally? I'm referring to the courses that are, for example, under the School of Medicine. If the answer is yes, the amount of investment required would be more than for a course delivered, for example, under the School of Management.
I think a choice must be made. After making the decision, universities also need to properly train the faculties that will take part in these programmes. The question is - what kind of quality would we like to provide to students, regardless of whether they are domestic or international when offering online courses? I believe this is not just a challenge for Università Cattolica, but a challenge that every university in the world is now facing. There should be a definition of these standards and we would make sure that we comply with them.
Università Cattolica's participation in international networks stems back to the early years of its foundation by Father Agostino Gemelli. What contribution does our University bring to the networks to encourage both mobility and the internationalisation of research?
Pier Sandro Cocconcelli: There are different types of networks. There are networks in which we share the same identity, such as the IFCU. There we are in several working groups spanning different topics and our Rector and I are on one of the boards of the International Federation. However, this is a network with hundreds of differently sized universities in many different countries. We must consider this diversity. Some universities teach only Theology, Philosophy and Canonical Law. We are in a different situation. We are Catholic University, but we are also a comprehensive University.
That is why a few years ago we decided to actively participate in the creation of a new network called the Strategic Alliance of Catholic Research Universities (SACRU). The members of SACRU are eight Catholic universities from four continents that two years ago decided to share a common future and activities related to their main mission of education - increasing the internationalisation of research, taking advantage of research structures that are located on the different continents. To give an example, if you do a study on global climate, it is much more efficient to collect data from several universities across the globe to develop really good research. These universities are highly active in the research and education community, and they are good universities in terms of parameters that are used to rate the universities.
We are also applying to be a part of networks according to the European University Initiative, which is a framework from the European Commission that aims to create networks of some 20 universities that are strictly interconnected and plan a common future.
All in all, the interest we have in networks is very wide. It can be just to be a part of important networks on an international level or to actively participate in the development of new smaller networks designed to improve the quality of partnerships and the service to students.
Edilio Mazzoleni: That's not an easy question. There are two reasons to develop a network. Firstly, it's "cool" to be a part of a network. But, if you want to take part in it, you can't just be cool, you need to be smart as well. You need to understand what you can get out of a given network. The second reason to be a part of a network is to search for suitable partners that for several indicators are a good match to Università Cattolica. For instance, if you want an impact on research, on mobility, as well as course development or investment in infrastructure, then you need to partner with other universities. It is not always something that a university wants to do. There is this tendency not to work with other universities, often it's all about what we can do ourselves that is of value. That is true for almost every university in the world, but even more so for an Italian university. Nevertheless, I think we'll reach a point where a group of universities can do more than a single university. For example, we need to understand how we should invest our money. How do we develop a conducive environment for our students? In that case, if you can set up a partnership with a university that has already done that, you can save time on developing such an environment, as well as money. The degree of making mistakes is lower if you partner with someone who already has experience.
This reflects on research as well, especially in terms of innovative research. To be innovative you need to try a lot of things. However, not all trials have a positive outcome. If you work with other universities, you can mitigate the cost of these attempts as well as the failed outcomes.
As for mobility, to become more effective, we need to partner with universities that take mobility into the same consideration as we do. Developing new kinds of mobility programmes that are innovative requires partners that understand what the young generation needs. For example, it is now very trendy to talk about online mobility. I am not sure whether that is something a student wants. Perhaps a blended approach would be more appealing to students, that is, to study from their own country most of the time, but then also provide an experience in the country the student has chosen to study in. Both could be possible. This way, you could be very effective with the credits you have allocated for your programme, but at the same time, you could have the physical experience of the place you have chosen as your destination. But again, to develop these programmes you need to partner with other universities and be a part of networks that understand the innovation that stands behind the development of these new programmes.
Finally, when we talk about internationalisation, we are not only referring to the possibility for a student to spend a period of study/stage abroad, but we are also talking about internationalisation at home, that is, the compelling need to make even the domestic experience on Italian campuses truly international. What are the next steps our University intends to take to enable our entire student body to experience true internationalisation?
Pier Sandro Cocconcelli: Firstly, internationalisation at home starts with increasing the number of English-taught courses and programmes. This is a key point. Many of the new programmes in recent years at our University are English taught. As a University we made an effort to increase the possibility for students to attend courses and programmes in English. It opens the possibility of new models and tools such as Collaborative Online International Learning (COIL).
Secondly, we must continue the trend of increasing the number of visiting professors. Visiting professors are extremely useful not only because they speak another language but because they bring brand new experiences. These different experiences are fundamental in the education of the younger generation because it is useful to perceive the different educational strategies of, for example, Finland, the USA or Asia. Moreover, the recruitment of international students to create an international classroom and the exploitation of IT technologies for connection with other universities are also important points.
Finally, we have several ongoing international research projects. Most of the time our research is highly internationalised, and I think creating osmosis between research activities and educational processes will also help internationalisation at home.
Edilio Mazzoleni: The internationalisation process is driven by what the ultimate user wants. In this case - the students. Right before the pandemic, we developed several courses which are offered online together with other universities. We took a course and students from that given course in our university, and the students of the same given course in an international university and made them meet on an online platform. The teaching is co-shared between our faculty and the international faculty. Accordingly, it's not just someone participating in a course offered by another university abroad. The course is jointly designed by faculty members of the two institutions and the student participation is equal from both institutions. That, I believe, is a good example of internationalisation at home.
Other than that, we move to a more traditional approach, which is having our international students on campus mingle more and creating opportunities for them to be a part of our community. If we want to do that, we must invest more in social activities. In our culture, social activities are not run by the University. It is something that a student does in his or her spare time. We have 10% of international students against 90% of domestic students. There is an imbalance, but we need to internationalise the university at home and provide our domestic students with an opportunity to expose themselves to an international environment when coming to our campuses. I believe once we invest more in social activities, the rest will come. The dynamic changes completely. We must create more space in the university for these two groups of students to meet in a physical space and then, of course, we could also increment the number of digital study abroad courses we offer. Although, if you don't make domestic students understand the beauty of going abroad or getting to know different cultures in person, these digital programmes might not be exploited 100%.