Mind over matter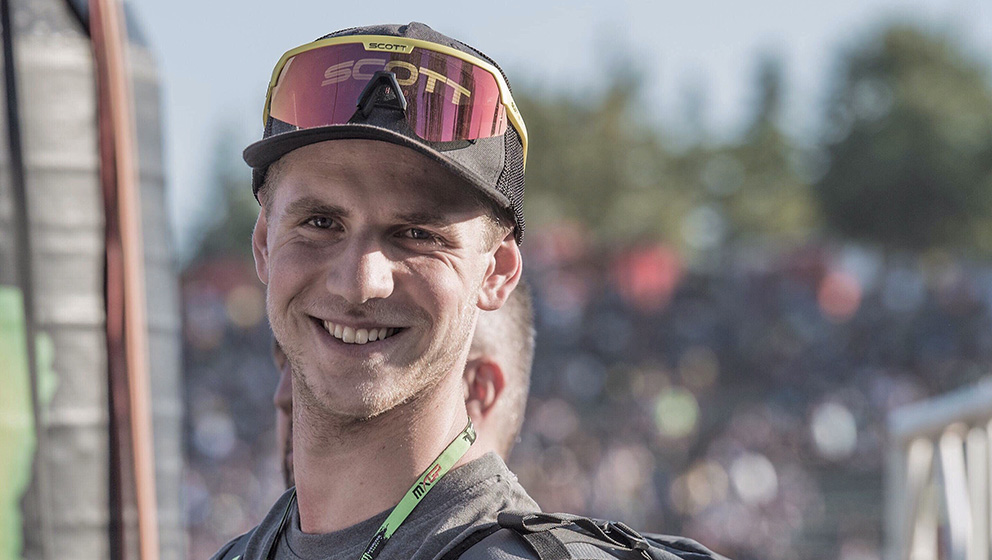 The benefits of working as a university student are endless, but challenging nevertheless. Balancing work and study requires dedication and passion, two qualities that Michele boasts. At just 20-year-old, Michele Bianchi is an ex mountain bike racer, currently an Economics and Management student at Università Cattolica del Sacro Cuore, as well as the Student Marketing Manager for Red Bull and a Technical Assistant for Scott Sports. With his dynamic schedule, he doesn't take no for an answer and is always working on the next creative activity. We uncover just how Michele became addicted to adrenaline.
Working students may experience more stress due to a heavier work and study load. They might miss learning the hard skills by not attending the lectures due to the extended working hours. They might have less time to experience university life, socialize with their friends and spend quality time with their family. Studying while working needs moderation.
This is not the case for everyone. Michele Bianchi is an Economics and Management student at Università Cattolica del Sacro Cuore. He is also the Student Marketing Manager for Red Bull during the weekdays and a Technical Assistant for Scott Sports mostly during the weekends. Even though he has a busy schedule, the 20-year-old Michele still manages to work full-time without letting his studies suffer.
At the time of the interview, Michele is a sophomore university student who regularly attends classes. When he goes to his classes, he pays attention to the key topics and writes them down. Later, he reads the required books about them to broaden his understanding on his own.
He already has his own method when he studies. First, he writes down the basics: definitions, explanations and examples. Then, he explains the theories on his own, four or five times and without looking, until he knows it by heart. It is his efficient way to balance both his studies and work commitments: less study time, more gained knowledge.
Once Michele can confidently repeat what he has studied, he moves on to plan his next advertisement for Red Bull. As a Student Marketing Manager, he is responsible for the marketing strategies and publicities of Red Bull inside Università Cattolica del Sacro Cuore and bars near the campus. But he does not promote Red Bull by giving out leaflets outside the university. He challenges his creativity to think of ways he can advertise the brand implicitly.
Michele unleashes unconventional tricks up his sleeve to catch the students off guard. One example is when Michele placed Red Bull cans under the desks of a classroom on the main campus of the university. On top of the cans, he left short quotes he had written himself. It ranged from "here's the fuel to keep you going" to "under the desk, you find the energy to stay focused on the lesson". As the students scurried into the room, they sat down and took off their bags when they noticed the cans. Michele, sitting at the back and looking indifferent, witnessed the news got passed on until everyone started looking under their desks.
That's not the only trick. He also left copies of a book entitled "University Survival Guide" inside the university library. It was an ordinary, bright blue-colored book with perfectly aligned sheets of paper on the outside, but once opened, two Red Bull cans were embedded in the deeply-carved hole in the center of the book. He waited for a few students to take their coffee break before he placed the book on their desks. Michele sat in his seat and saw the returning students open the book with a surprised look on their face.
After a mission accomplished checklist for Red Bull marketing, Michele turns to his computer to check his timetable for Scott Sports. As a Technical Assistant, he assists the Motocross championship racers with their gears. This is where he gets busy. Although he works for Scott Sports mostly during the weekends, there are times when he has to work on a Thursday evening until early Monday morning. He travels around Europe with Scott Sports, going places where there are Motocross Championship races. So far, he is bound to attend 13 races. He has already gone to Holland, UK, and Trento for the first three championship races and he still has 9 countries and cities to go.
Michele does not work for Scott Sports by accident. He was a Motocross racer himself. His dad has been working in the automotive field for years. He introduced Michele to Motocross at the age of four. Michele then started to race for Motocross. He used to practice after his school hours, lodging his motorbike in his father's car almost every day. He competed for Motocross Championship races at the very young age.
At the age of 10, Michele decided to change his sport. The practices and races of Motocross felt repetitive to him and he wanted to try something new but still extreme. He discovered Downhill Mountain Biking.
After 10th grade, Michele flew to Canada with his Downhill Mountain Biking team and coach. In Squamish, British Columbia, he had spent two years finishing his high school education while competing in several racing competitions. Michele did not mind the rough splashes of the wet earth or the subtle beating of the tree branches on his helmet as he rode through the thick green woods of Squamish. For him, he learned how to embrace the uneven nature and the adrenaline rush that flowed in his veins.
One photo showed how serious Michele was about his venture for Downhill Mountain Biking. In the photo, Michele was set to cross the other side of the forest cliff in the woods of Squamish. Wearing a black and red suit and a green helmet, he sped up his pedal and flew to the other side. The river was coursing below him as he momentarily hung up in the air before he landed smoothly on the rough earth. Although he was worried, Michele set aside any worries and only thought that he would make it to the other side. And he did.
These are now fond memories for Michele. He has put away his motorbike and mountain bicycle to focus on his studies and jobs. He does miss doing extreme sports, but for now, he is at ease in a "more relaxed working space." Perhaps in the future, he may do it again.
Michele has a new day-to-day routine far different from just doing sports. It doesn't involve him pedaling a bicycle to cross another cliff or riding a motorbike against the dirt of the road. It includes rummaging through a pile of books to read, a cart of cans to hide under the tables and a bag of motorbike equipment to carry.
He carefully plans his schedule ahead of time to study and work accordingly. He has a strict timetable to follow for university, but both his jobs at Red Bull and Scott Sports allow him to work in a flexible schedule with fixed minimum hours. Despite this, he finds working and studying at the same time an enjoyable moment where he can thrive.
Michele sits down on the chair and lightly leans on it. He is not thinking about his schedule the week after. He has already done that. He knows what to do next to promote Red Bull inside the campus. He is set for a new city in a few weeks or so. He has reviewed all his notes and is ready to take his exams. He does not check his time on his phone.
For Michele, the word "under pressure" is not part of his vocabulary. The essence of his time is to enjoy where he is and what he does. As he sits on the chair, he stretches his legs and puts his hands in his pockets. Then, he looks up and smiles.
Article featured on Worldbound, edition n.2-2019.