On the gridiron of fears and dreams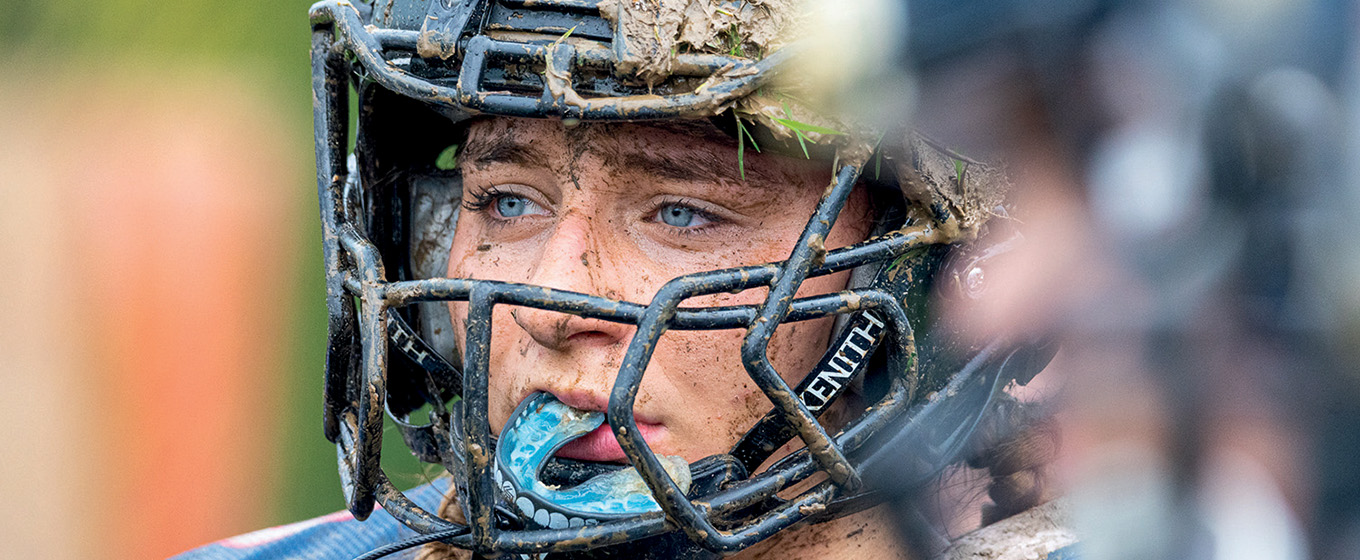 by Laura Bebre
We meet her wearing long signature braids hanging over a dark hoodie. It appears we have caught her on a quick break, as if she were about to pick up the prolate spheroid shaped ball and head back onto the field any moment. Is it game day today? Her strong, confident, yet kind personality beams even when meeting her virtually.
Despite being a timid child, it did not take long for 16-year-old Nausicaa Dell'Orto to drop the shiny cheerleading pom poms she had started shaking only a year before and enter the field herself when she saw a male team go for it. Today we meet Nausicaa, not only as a tight end player in American football and one of the first women in Italy to propose a female team but also as a championship winner, Italian National Team captain, NFL Films storyteller, and Università Cattolica del Sacro Cuore alumna.
Back when Nausicaa first became interested in the sport, American football was barely popular among men in the land famous for soccer. Yet promptly Nausicaa found out she was not the only female who wanted to leave the sideline and move the ball into the opponent's end zone. "When you find your passion, you find your people." Gathering a team of equally enthusiastic girls and approaching a coach they were met with nothing but an ironic chuckle. Nausicaa smirks, "The chuckle that people give you when your dreams are too big." After all, the game is too tough for girls, right?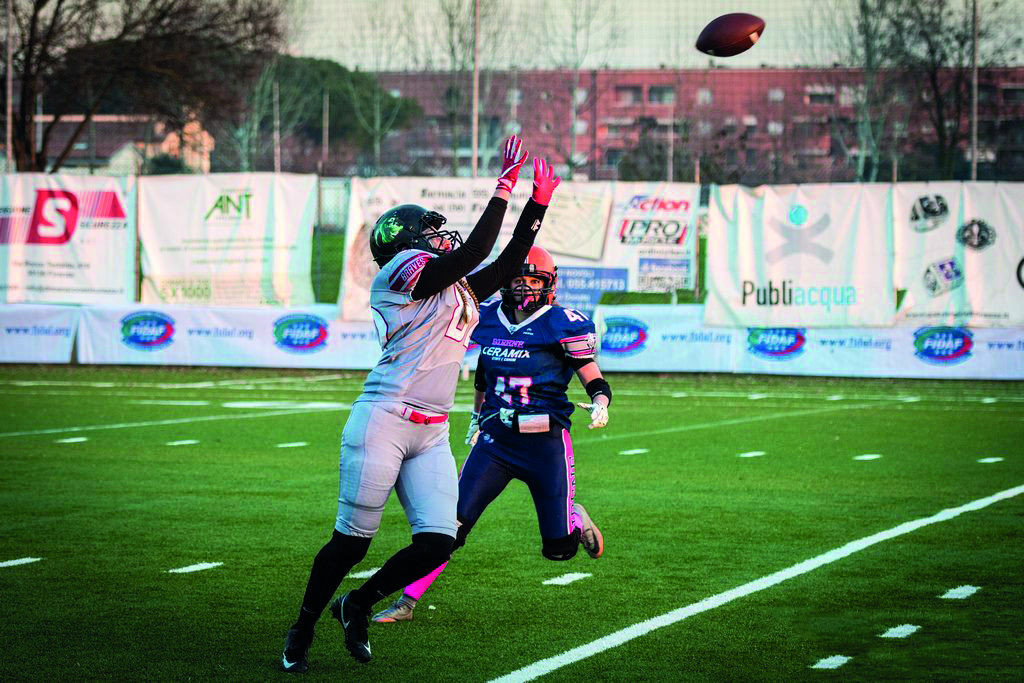 It didn't stop Nausicaa, nor the rest of the team. Believing they had every right to play Nausicaa and the girls found a coach that believed in them, and the game was about to kickoff. "In your life, you will find many shut doors, but it takes only one yes," Nausicaa recalls when a teammate's father agreed to teach the girls. Soon enough girls dressed in shoulder pads and carrying old equipment from the 1980s were seen playing in Milan's Parco Sempione gathering a large circle of young women interested in something unheard of in Italy's female sports field at the time. Their circle quickly grew from just seven to 25 girls, and not long before Nausicaa together with the rest of the newly formed Vichinghe (i.e. Vikings) team marked the first-ever female American football match in Italy playing against Bologna Neptunes, another team that had similarly popped up in the Emilia-Romagna region. The game was truly a sight to see, their dangling feminine braids contrasting the enormous helmets and wide shoulder pads in a barely adequate muddy field. Yet nothing could be compared to the emotions the girls felt once the match had been won and the crowd started to cheer. "For us, it was like the Superbowl." And just like that not only could girls play full contact, but people were watching.
However, football was not just a pass time for Nausicaa. Her passion for football and her fearless attitude towards both the game and life exalted into a full-scale career.
Nausicaa recalls the second courtyard of Università Cattolica's main building as her favourite place. "I would sit under the tree in the middle of the chiostro (i.e. cloister) to find some kind of balance, to stop everything for a second and breathe." It is perhaps during one of these peaceful breaks in the serene courtyards that Nausicaa decided she would apply to the international programmes offered by Università Cattolica. Her first adventure took her to a summer seminar in Storytelling at Menlo College, California followed by a masterclass in TV Production and Marketing at Boston University. It is through these programmes that Nausicaa realised she not only wanted to tell stories but also change lives. Her degree in Languages, Communications, and Media at Università Cattolica and the subsequent international experiences led Nausicaa to an internship at Sky Sports in 2017, an experience that she admits greatly helped her career and introduced her to valuable contacts in the field.
Today, Nausicaa's ability to apply lessons learned in football to her philosophy of life and resilient work ethic has led to a successful career working as a storyteller for NFL Films. But just like game day, Nausicaa's journey to the National Football League (NFL) was anything less of a sweat. No matter which side the coin lands on the big day, how many fumbles she encounters on the field or how many hurdles she must overcome in life, Nausicaa insists there is no looking back, regardless of the situation, you must always move down the field. "Until I am not down on the ground and buried, I will keep going." But it was not always like that.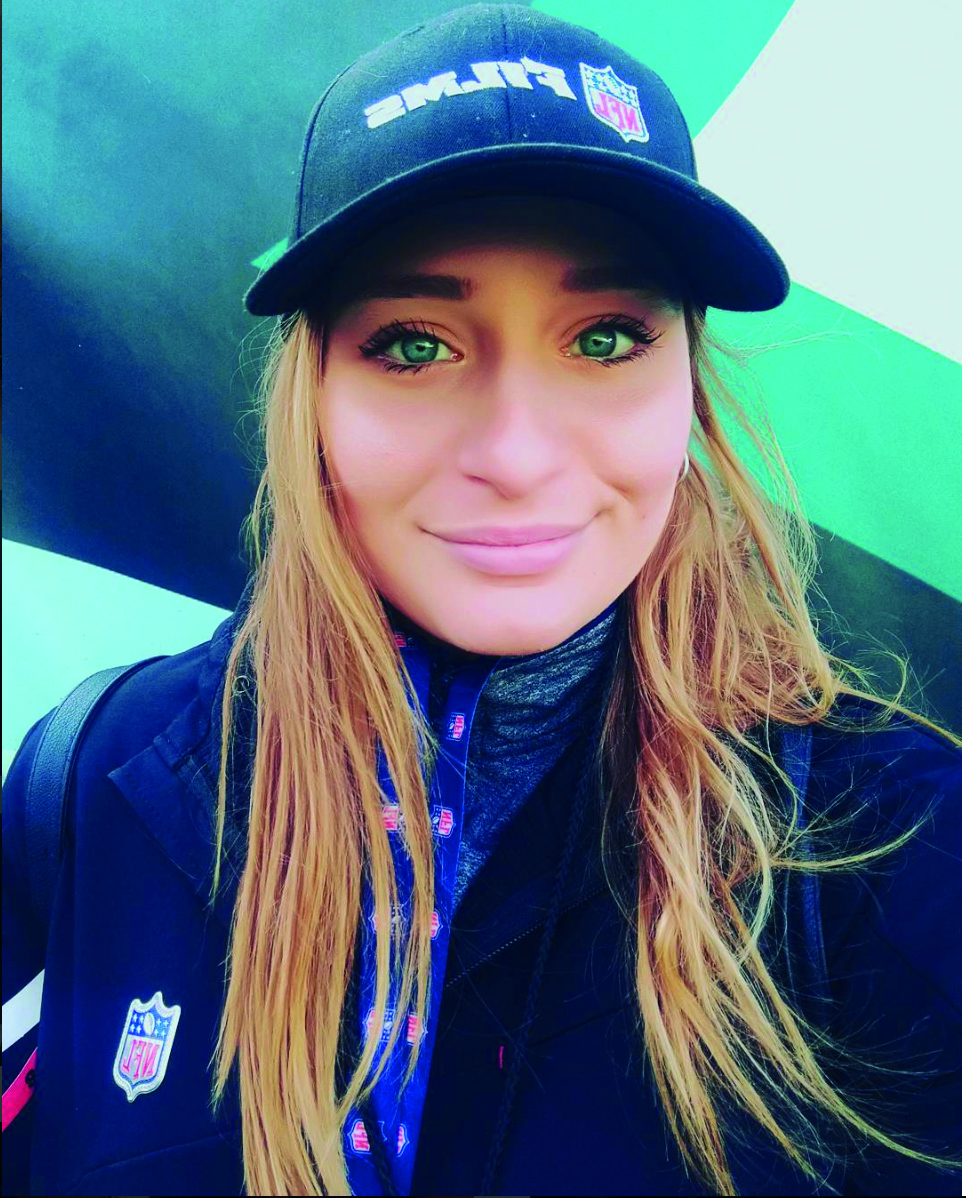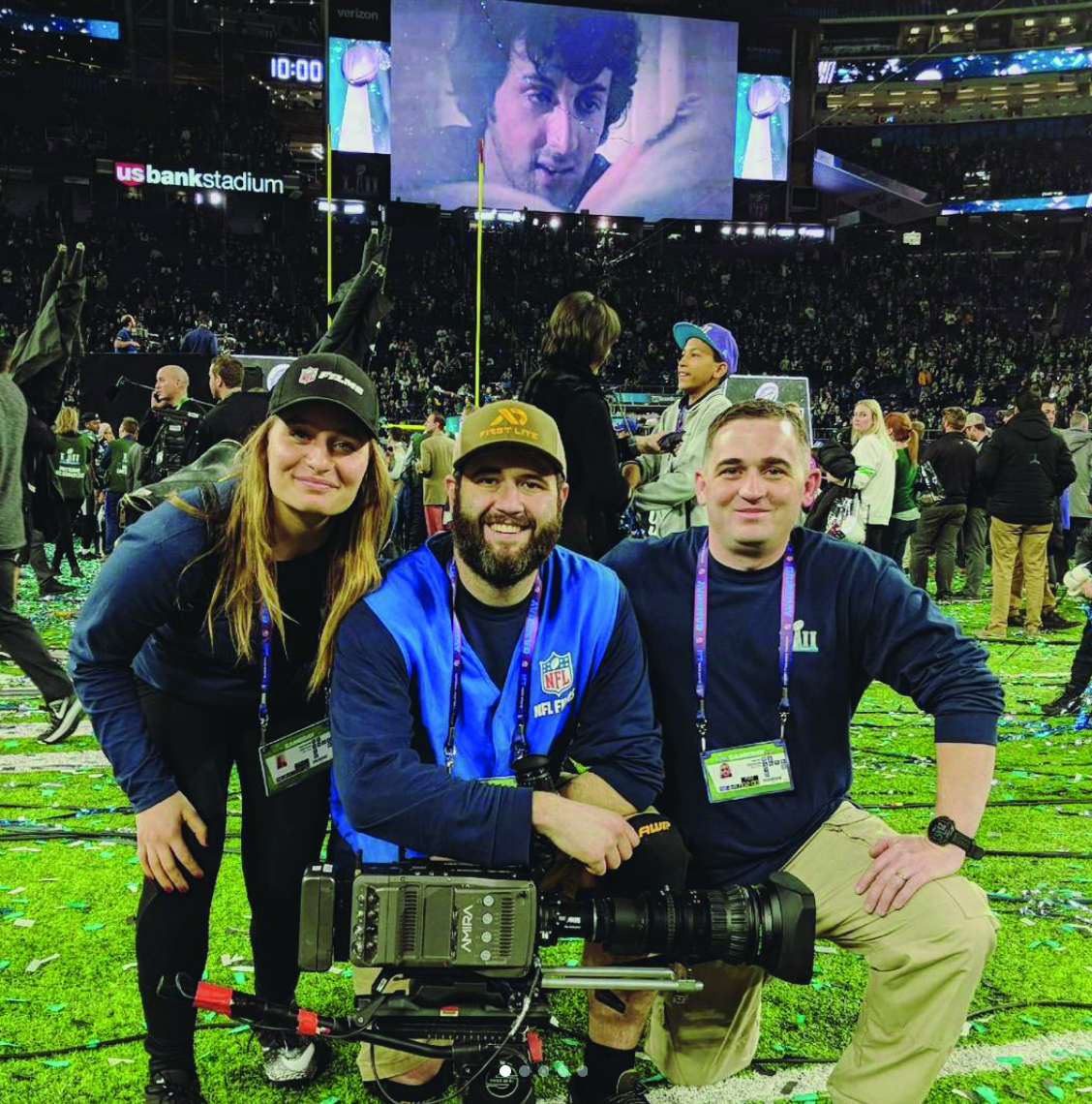 While completing her internship, Nausicaa like many young graduates was searching for a job and applying for anything she could grip on to, at one point even working for a Visit Denmark tourist office and seriously doubting her football career under the pressure. Nausicaa recalls thinking "Why am I even doing this?" - a thought that seems inconceivable to anyone meeting Nausicaa today.
Once the storyteller position at NFL Films in the United States opened, there were no doubts that there was only one person as fit for the job as Nausicaa, even despite the position's unparalleled competition of professionals. With the ball in her hands, Nausicaa was heading straight for the offence. "This job belongs to me. The field belongs to me." After 13 gruelling interviews, her last task to reach the end zone was to write a story. Garnering her experience on the field and the storytelling knowledge acquired during her studies, Nausicaa presented the board with a story about Penelope, a young cheerleader in Milan, whose dream was to play American football. Little did they know at the time that Penelope was Nausicaa's middle name. Shortly after she scored the position and transferred to live in the United States full-time, working and playing in the hometown of her favourite NFL team Philadelphia Eagles. The shift from the field to behind the camera was not difficult either. "It's not hard when you do what you love."
Nausicaa's spirit is distinctly unbreakable under the weight of expectations and doubt. Her unique ability to always run the extra 10 yards, play overtime and find the strength and motivation in people who share her passion and goal is what keeps her going. "I moved to the United States, worked 70 hours per week instead of 40, I even made ragù and lasagne for the whole crew," she adds, laughing that they needed just a little bit of that "Italian touch."
But perhaps above all, it is her ability to stand tall in the face of fear. After all, fear is not something she avoids, instead, Nausicaa uses it as an instrument to move forward. While many see trepidation as something unwelcoming, Nausicaa insists "If your dream scares you, it's the right dream." For her, the only approval that matters are her own and the approval of people who believe in her dreams.
Shifting teams and cities to share the enthusiasm and encourage the female American football movement in Italy, Nausicaa has played in eight teams, six cities, and two countries, but the game has only just kicked off. Her number one advice to other girls seeking their dreams is to listen to their hearts and bodies. "Sometimes you think you don't know the answer, but you do."
Ultimately, her real power is to take the fear as a champion and use it to score points on game day, in life, and in her career. She is a hero of her own life and a driving force for many others who share the same passion and incentive. Nausicaa is a combination of courage, heart, inspiration, and the values driving her forward are the same ones so many of us forget when facing fear. But the goal is only one.
TOUCHDOWN