#trustthejourney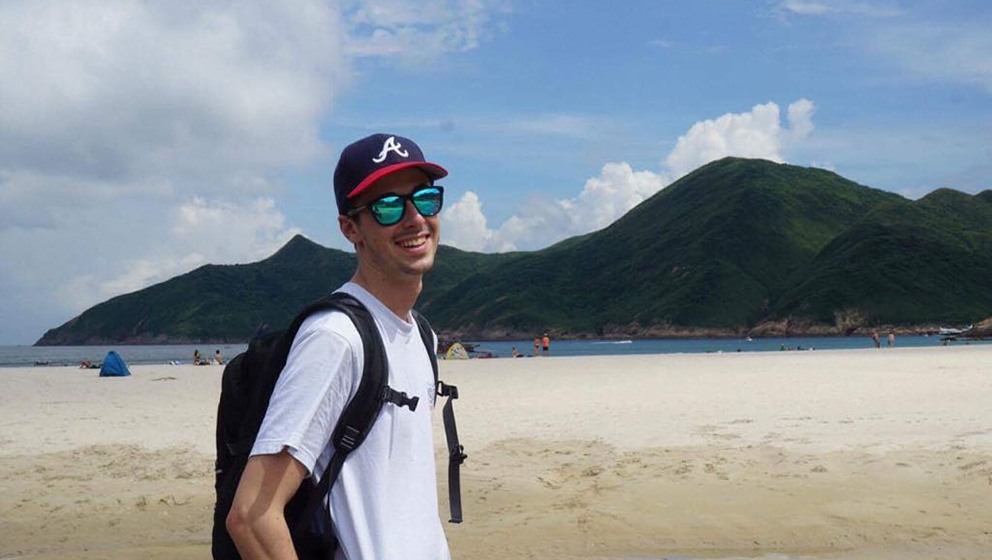 by Matthew Burgos
At first, Francesco comes across as shy and reserved, but underneath the surface he is bustling with energy, craving the next authentic experience in a unique destination. Generation Z is the most traveled destination, as seeing the world has become one of their top priorities, as is the case with Francesco who has undertaken several study and internship opportunities abroad. He believes the people you meet are what make the journey and you should never fear to get out there, even when traveling alone.
The first time Francesco Cinti went to Japan, he climbed Mt. Fuji. Wearing his hiking clothes, he stormed through the raging winter breeze until he reached the top of the mountain. There, he looked at the panorama before him. The rows of buildings, painted in gray and covered with blocks of ice, glowed below him in contrast with the blue sky and yellow sunshine. Then, he took a picture with his friend and saved it on his phone. Francesco stretched his arms after the long trek and sighed happily, a reminder of the treasure trove that could be found when traveling abroad.
Francesco has always been curious about traveling. He satiated his curiosity when he studied for his high school senior year in Boston, Massachusetts. For one year, he relied on himself for his daily routine--what to eat for breakfast, what to cook for dinner, how to wash and iron the clothes. Phone calls to his family in Italy accompanied his occasional how-to questions. At that time, Francesco wasn't worried about his studies. What plagued his thoughts was how he could travel on a budget.
Together with his newly-found friends, they embarked on a road trip that lasted for weeks. As the car's engine revved, they crossed Alabama, Louisiana, Mississippi, and New Orleans, along with Florida, stopping to visit some hotspots, but never staying for too long. On their adventure, they witnessed sunrises and sunsets in different states, listened to city noises of car honks and people talking, ate the local food, and experienced sleeping in the car on an empty parking lot of a gas station.
But after a well-spent year, Francesco returned to Italy to continue his studies. He started his undergraduate degree in Economics at Università Cattolica del Sacro Cuore, still buzzing with adrenaline that made him want to travel again. The only way he calmed this energy was when he went to Hong Kong for the summer of his sophomore year for an Internship Abroad Program at the Italian Chamber of Commerce.
Francesco had always been fascinated by the Asian culture. He wanted to taste the delight of a culture far from his own and more than what a Chinese restaurant or "baozi" could offer. He knew his trip would be exciting, but he wasn't prepared with the awe-striking gift of Hong Kong. He was miniature compared to the towering buildings that surrounded him and the bustling activities of the city. He immersed himself in the nightlife and even took the stairs to reach the rooftops of the skyscrapers and watch the city below him come alive with neon lights at night.
From there, he didn't want to stop. He flew to Edinburgh for his graduate degree in Accounting and Finance and spent over a year fighting off the cold, checking the weather if it would rain or snow, and writing his dissertation. Francesco thought that Edinburgh had a laid-back environment, a fresh change from the grand chaos of the previous cities he visited.
For every traveling experience, Francesco brings home a story. It's a souvenir he keeps in his memory to reminisce and retell. One of the memories he likes to share is the people he has met on his journey. He didn't know them at first, but one strike of conversation and they became friends. This is one of the reasons why he travels. "It's priceless," he says. "They're your key to learn the culture. They show you around the city, and let you know the ins and outs, and dos and don'ts. It's a private lesson a university class can't offer. It's a full-immersion far from what the internet and books say. It's an experience worth savoring."
Now, he goes to different places with these friends whenever they have the chance and still meet strangers along the way. "What's fun is the relationship you build with them," he says. "When you start planning together, sending text messages, looking at your budget, deciding the places to go, it's all exciting. It makes the trip more meaningful as if you're doing it for a purpose. Then, you start to create memories that are hard to forget. If you look back and relieve them, you can't help but smile."
Traveling abroad has made Francesco more independent and free from the traditional way of life. "I feel as if I'm a different Francesco. I feel like a stranger," he says. "Now, it's easier for me to talk to people I don't know, to stop someone on the road because I'm lost and I need directions or to ask if I can join them to their parties. Everyone around me has an energy so positive that it draws me in there. There's no way I won't return that same amount of energy to them."
Francesco likes to live like a local when he travels. He doesn't go to the typical tourist spots as soon as he gets out of the airport. He finds the city's sanctuary, a coffee shop or a square maybe, sits down and starts a conversation with anyone. The charm of traveling lies in the simplest but most underrated forms of action. One forgets that the impressive monuments and museums aren't the only reason to visit a country.
"There's so much more out there," Francesco says. "You don't have to go to all the temples, eat all the local food or visit all the museums in that particular city. You don't have to do all the grand things. Sometimes, spending time with the people you meet along the way and live in that moment is enough. I think that's the essence of traveling.
The third time I went to Japan, I went out for dinner with a Japanese friend I had just met. She spoke basic English, so we worked together and found our ways to understand each other. We used gestures, we spoke slowly, we used translators and we pointed out at things. We would laugh together but it was there, the shared connection. And nothing could replace that."
Francesco is not a fan of hesitation. He plunges straight into the unknown to peel the layers of its mystery. That's why when he hears others who doubt themselves if they can travel alone or without the people they know, he tells them to stop thinking and do it. "It's not easy, I'll tell you," he begins. "But you have to trust the journey. You have to trust yourself. It's the chance to let go of your fears and explore what the reviews and pictures online won't and can't ever tell. You just have to do it. I remember Socrates said that...wait I forgot it. Let me Google it first," he pauses. "Here we go. It's something like men are scared of the unknown because it is unknown. I believe that. Never fear the unknown. It's beautiful and it's the uncertainty that we should embrace. So trust me when I say go out there. Go now. I promise you're going to love it."
After a short vacation in Italy, Francesco is now back in Scotland. There's a reason why 22-year-old Francesco brought an Italian flag in his luggage and openly hung it on his bedroom wall: it is still his home. Sure, he loses himself to bustling cities with his smartphone maps or artisan-made local food, but nothing beats the cozy feeling of his parents' house or his grandparents' cooking. In return for the towering plates of Italian cuisine on the dining table, Francesco brings home his new palette of stories to tell to his family. They are a part mishap, part glory-filled, but always the authentic trademark of Francesco's soul for new discoveries. And don't be surprised if the next chapter of his story is through a video or voice call from the other side of the world.
Article featured on Worldbound, edition n.2-2019.