A mission to inspire. Passion to teach.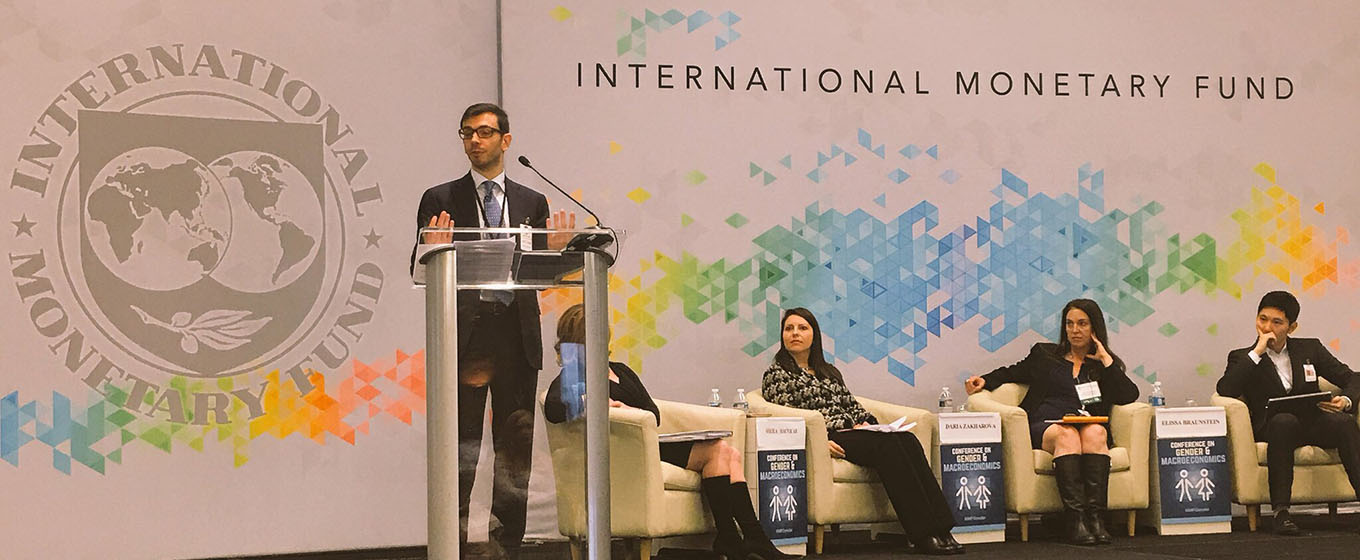 by Lisa Gunnarsson
You are walking into one of the grand lecture halls in Trinity College, Dublin. You take a seat and pull out your notebook. Seen from above are seats arranged in sloping tiers and colourful dots of students. The topic is Macroeconomics, a top-down approach to the behaviour and nature of the economy that we all are embedded in. As the professor starts speaking, he immediately captures your attention. He doesn't have to ask anyone to be quiet or raise his voice because everyone is already engaged. They are listening intensely. His passion shines through each word, untangles the complicated greatness of the argument and boils it down to its essence. He is playing with words, making something difficult not only approachable but intriguing. You catch yourself thinking, who is this man?
His name is Davide Romelli. And his story began far away from the halls of Trinity College.
It began surrounded by mountains. In the province of Brescia, Northern Italy, there is a small town of just a little more than 1,200 inhabitants, and with nature at everyone's doorstep, this is where Davide grew up. It was an environment where winter is winter and skiing was thought of as a part of the routine, something he really enjoyed. But he was also looking beyond what immediately surrounded him. Already in High School, Davide developed a clear-cut interest. In 1998, when the process of firm privatisation started in Italy, he became curious about the developments in the financial markets. It made him so intrigued that he made up his mind to study this topic at the university level, stepping into the mission of letting his interests guide him. And this decision brought him, in 2003, to the metropolitan city of Milan.
At Università Cattolica del Sacro Cuore, Milan, there is an undergraduate degree called Financial Markets and Institutions. This was exactly what Davide was looking for. "I had already made up my mind that I wanted to learn more about how financial markets work during periods of expansion, but also what triggers the irrational bubbles in financial markets. So, this degree at Università Cattolica was the ideal scenario for my interest."
During his time studying for his bachelor's degree, there were a lot of people who inspired him. One of them, whom he mentioned right away, was Professor Giovanni Petrella, who still works as a professor in the School of Banking, Finance and Insurance Sciences at Università Cattolica. Professor Petrella, and other professors during his university years, provided fuel for the fire within him. He became even more passionate about economics and its enmeshed boundaries to other subjects and everyday encounters. His outlook widened as his scope of knowledge expanded. But it was not only professors whose paths crossed his at Università Cattolica that made a significant impact. "At that time, a colleague of mine in the dormitory told me that the best way to upskill yourself and think about the future is to learn English. Because at the end of the day, you're investing in your education for the next 30 to 40 years." This sparked something new within him and not long after, thanks to the help of Cattolica's International Office, he embarked on a journey across the globe to Australia.
Davide had gotten an internship in Melbourne at the Hyatt Hotels Corporation. Here, he would stay for three months and given his background, they asked him to work in the financial sector. More specifically, in the financial invoicing and financial services division (which was a very small office with only one person). So, Davide gathered his courage and said to them "I like to see things from the big picture. Could you please allow me to move across different departments during my internship?" and the answer was yes.
Throughout Davide's experience abroad, he learned a lot about himself. He grasped what the word independence meant, and suddenly, the world started to look a lot wider and filled with opportunities when embodying this new global perspective. It was shaping his way of thinking. "I learned how to live independently, which is a crucial task in an international environment. And I only have one regret about my experience in Cattolica: not going on a semester-long study abroad programme. The number one piece of advice I would give to any student whilst pursuing their degree is that you need to go abroad! It will change the way you look at things in life. Not only will you have the experience of meeting new friends from all over the world, but you will become independent."
After graduating with his bachelor's degree, Davide chose to pursue a Master of Science in Banking and Finance at Università Cattolica. However, his learning journey did not stop there. He spent the following six years living in France, obtaining two additional master's degrees and a Doctor of Philosophy (PhD) in Economics. During this point of his life, the art of teaching became central as he started working as a teaching assistant at Université de Cergy-Pontoise, in Cergy-Pontoise for three years and then worked as an associate lecturer for ESSEC Business School in Paris.
During this time, he was faced with a decision; he was at a crossroads, regarding his career path. He could either go one way, in which he could apply to work in international institutions like the IMF, World Bank, or the European Central Bank or to teach. The latter meant, taking the final step into the world of academia - fully immersed in a world of research and teaching.
Perhaps looking back at everything he had done, seen, and people he had met along his personal and professional journey, it suddenly became clear to him which direction to take. With a fiery determination to encourage his future students, as he had been inspired, and looking inwards to what has always guided him, Davide said "Let your passion drive your choices."
Now, as you gather your things: your notebook, pen and bottle of water, about to go to your next class, your peers stand up next to you, the colourful dots of students all moving in a synchronous flow towards the exit of the lecture hall, and you cannot stop thinking about one thing that was said during the lecture. One thing that the professor said. In the grand scheme of things, it is small-scale. But just as the overall, big-picture nature of Macroeconomics can be broken down into one connected dot after another - one thought within you makes the difference. And you walk out of the lecture hall today carrying that thought closely.
And as the future generation leaves the lecture hall, Davide Romelli packs up his belongings as well. The dots connected, all the small decisions leading up to this moment in time where he has landed his dream career, teaching various topics of Economics. It just so happened to be at the prestigious Trinity College, in Dublin, far away from the Northern Italian mountains where his journey began. It is simple: in the moment of teaching, he is the happiest. Being able to light that spark within his students, see them go out in the world, find their way and make a mark. This is what motivates him every day. Davide Romelli, with his passion and devotion, continues to make a purposeful impact.