Nine months, nine countries, and a suitcase full of books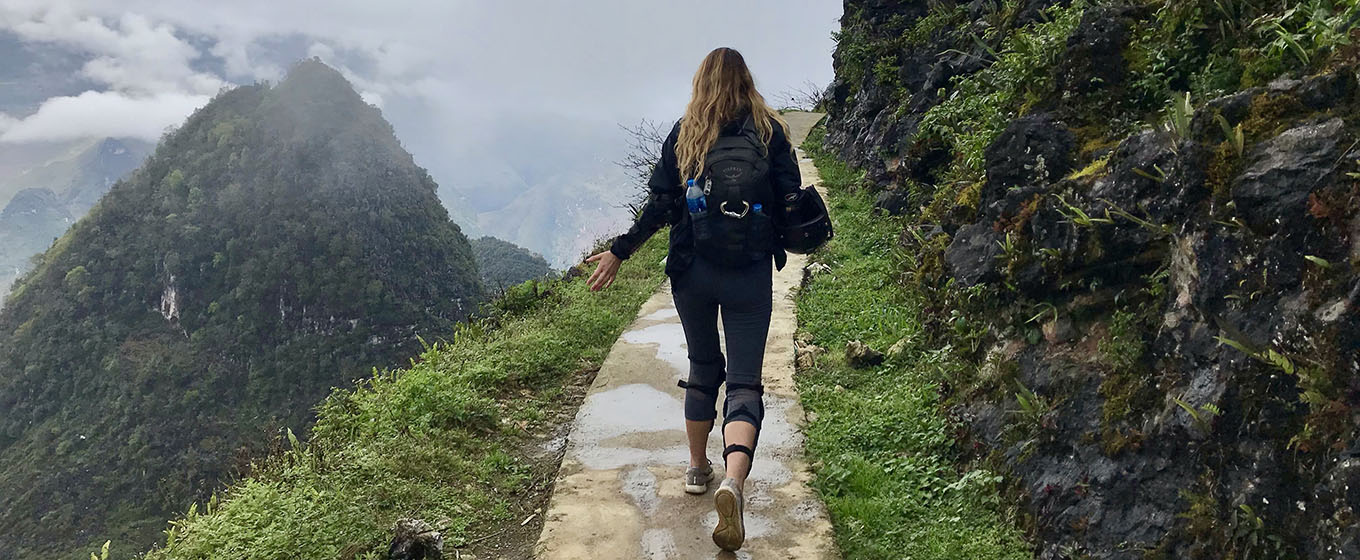 by Laura Bebre
Lisa Rebecca Gunnarsson, now an ambitious 24-year-old Psychology student at Università Cattolica del Sacro Cuore and a creative storyteller for Cattolica International, comes from the small town of Berga in Sweden. But the road that took her all around the globe and, finally, to Italy was anything but small. We sat down with Lisa, smiling and effortlessly cool, on an early sunny summer afternoon among the chattering students in the cloisters of the University to talk about how the life-changing journey shaped her experience and brought her to Università Cattolica del Sacro Cuore.  

Since early childhood, Lisa had two dreams - to travel the world and to write. While writing is something that required Lisa's creativity and imagination and could be done whenever and wherever she was, travelling the world called for a more practical approach. While everyone else fresh out of high school was preparing for university, Lisa decided to head off the beaten path and invest in her future differently. So, in 2017 Lisa took the first steps to fulfilling her dream of travelling the globe. To save money, Lisa took up a job at a factory. She admits the job was not easy, but long night shifts and dedication paid back when finally, she was able to step on a plane in August 2018 and embark on her nine months-long solo journey around the world.   
First stop - New York City. It was Lisa's first time in the USA and the concrete and glass jungle stood in stark contrast to her small hometown in Sweden. Whilst there, Lisa was CouchSurfing and a lovely New Yorker opened her home to Lisa and showed her the bustling city life. Together they strolled through Brooklyn, Chinatown and Little Italy, visited local coffee shops, read newspapers in a typical New York fashion and discussed life, the kind of conversations Lisa loves most. Not just simple small talk, but a chance to delve deep into someone's story and learn every aspect of another human being.  
After exploring the Big Apple, Lisa continued her journey in Peru, where she sandboarded the sandy desert dunes in the small oasis village of Huacachina and overcame the fear of heights in the famed Inca citadel of Machu Picchu. With her hiking boots, rain jacket and backpack over her shoulder, Lisa and her group headed for the Andes Mountains on the four-day-long Lares trek from Cusco to Machu Picchu, sleeping in tents, eating all the meals outside and crossing 35 kilometres in total.  
Once she had climbed the mountain, despite being physically exhausted, Lisa felt overwhelming gratitude. For challenging herself, for being there, for being able to take in the views and for the brief yet meaningful encounters with people that passed by with an encouraging smile. In fact, Lisa says that the most beautiful thing about the experience was meeting the people that accompanied her on the climb. Both the strangers she met along the way and her group made the hike easier and more purposeful, each supporting the other to reach the top.  
Her next destination was the port town of Valparaíso (Spanish for Paradise Valley) in Chile. The colourful clifftop town was indeed an unexpected paradise. Instead of her planned short stay, Lisa ended up staying in Valparaíso for two months, enjoying the local culture and dedicating herself to writing fictional stories, something that she continued doing throughout her trip. In fact, Lisa stayed so long in Valparaíso because she realised it will be the perfect place to write. The people were welcoming, and she managed to get her own apartment and dedicate herself to the craft every morning, eating local breakfast and sitting down to write on the old wooden table facing the window and the colourful flowers outside it. "The apartment gave me space to go "crazy." I love making maps and character webs for my writings on physical paper, sticking them together and laying them all over the floor. The apartment allowed me to do just that." During her time there she got to dig deeper into the local culture, made friends and even acquired a personalised Chilean cookbook from an upstairs neighbour that she still uses today. 
After that, Lisa made a quick stop in Argentina before completely changing the landscape and touching down in Japan. There she explored Tokyo, Kyoto and Osaka. "It was such an amazing experience, the culture, the people, the food. Udon, ramen, soba, I loved them all," says Lisa laughing that she gladly embraced the unusual slurping tradition as a sign of politeness and good food.  
After Japan, Lisa's next stop was East Asia, where in Taiwan she made one of the most beautiful friendships of her life with a Taiwanese girl Una, whom she casually met one morning in a hostel in Tapei. "She introduced me to Buddhism, as well as to local cuisine, we exchanged readings and overall, she was such an inspiration to me. She taught me how important it is to choose your path and stick to it." And that is a rule Lisa still lives by today.   
After Taiwan, Lisa's journey continued through Southeast Asia in Cambodia, where the biggest highlight was the Angkor Wat temple, on to Sri Lanka, a place that helped her to completely shift her outlook. "It was incredibly enriching to see something completely different than what I was used to," says Lisa. One of the trip's highlights happened there when Lisa and her friend got lost whilst attempting to reach a beautiful mountain peak. "Suddenly a dog appeared seemingly out of nowhere and started acting as a shepherd, sitting down and patiently waiting whenever we went the wrong way," remembers Lisa. Soon enough the dog guided the girls back on the trail and even followed them up to the peak.  
Her last stop before returning to Sweden was Vietnam, where Lisa went on a five-day long Ha Giang motorbike loop in the mountains of North Vietnam, circling the narrow turns and exploring the stunning scenery of beautiful mountains and river valleys full of marvellous rice terraces.  
However, upon her return to Sweden Lisa knew that there was more in store for her. "I wanted to have a broader perspective and to be back out in the world," reminiscences Lisa. On top of that, her journey around the world, the friendships she made along the way and an experience in the caretaking field in Sweden that she did both before and after travelling the world made her realise how much she strived to understand and help people.  While before her journey Lisa worked as a caretaker with a person on the autism spectrum, after she returned, missing her job, she went back into the field, but this time for another family. It was a completely new setting, which showed her how physical disorders can affect people and those around them on a level beyond the visible. It was the final push for her to study psychology.  
After looking for possible psychology degrees abroad to combine her passion for travel and her quest to understand human nature, Lisa found Università Cattolica in Milan, Italy, and its entirely new English-taught Psychology bachelor's degree. Now, being in her second year, she can look back at the programme and appreciate its variety. "I love this programme and I chose it because of the course diversity. One of my favourite courses so far is Philosophy of Science," says Lisa adding that the entire degree programme exposed her to a lot of different perspectives and approaches, that helped her find direction in this complex field. "Because of the variety of courses, I got to orient myself, of where I am standing and where I can make a difference." 
Moreover, in her first year, Lisa applied for a storyteller position at Cattolica International. "I always found pleasure in writing," says Lisa. "After travelling and seeing so many views and walks of life, all embedded in beautifully diverse contexts, I realised I cannot live without writing." Now it has been a whole year since Lisa started writing for the University magazine Worldbound and introducing the current and future students to the stories behind the alumni and the University. "Cattolica International gave me an extra dimension here at the university, because I love to write, and this allowed me to be a storyteller on a more tangible level," remarks Lisa. For her, bringing forth people's stories regardless of the setting, whether it be reading about or writing someone's story, or having conversations with people you just met while waiting for the bus, is key. "I want to make people feel like they have a chance to tell their story," she says adding that good stories are not that hard to come by, "It is not even creating something that wasn't already there but listening carefully to what is being told."  
When thinking about what awaits her after the Psychology degree, Lisa smiles with a twinkle in her eyes and says she will pack her suitcase and go wherever the master's degree takes her. Curiously, her suitcase is always extra heavy as she jokingly adds she packs more books than clothes, among which also her favourite author - the Indian activist, Arundhati Roy with the book The God of Small Things. But, before the future comes, Lisa is continuing her Psychology degree at Università Cattolica and occasionally indulging in a cup of her favourite speciality coffee at Nowhere Café near the University with a good book in hand.   
While Lisa loves telling the stories of others and creating fictional ones as well, her own story teaches us a paramount lesson - never be afraid to take a leap of faith and follow your dreams no matter how long you have been dreaming them, even if sometimes it means putting the study path on hold and heading off the beaten track. "In certain situations, doubts may arise, and you might start to question your capacity and strength, but if anything, it teaches you how to trust your gut and do what you believe is right at the moment." That, says Lisa, is the greatest gift of all. Moreover, through experiences and the stories of others, no matter which corner of the world we may meet, we can find our path.