Beyond Borders: A Researcher's Mission to Unite Africa and Europe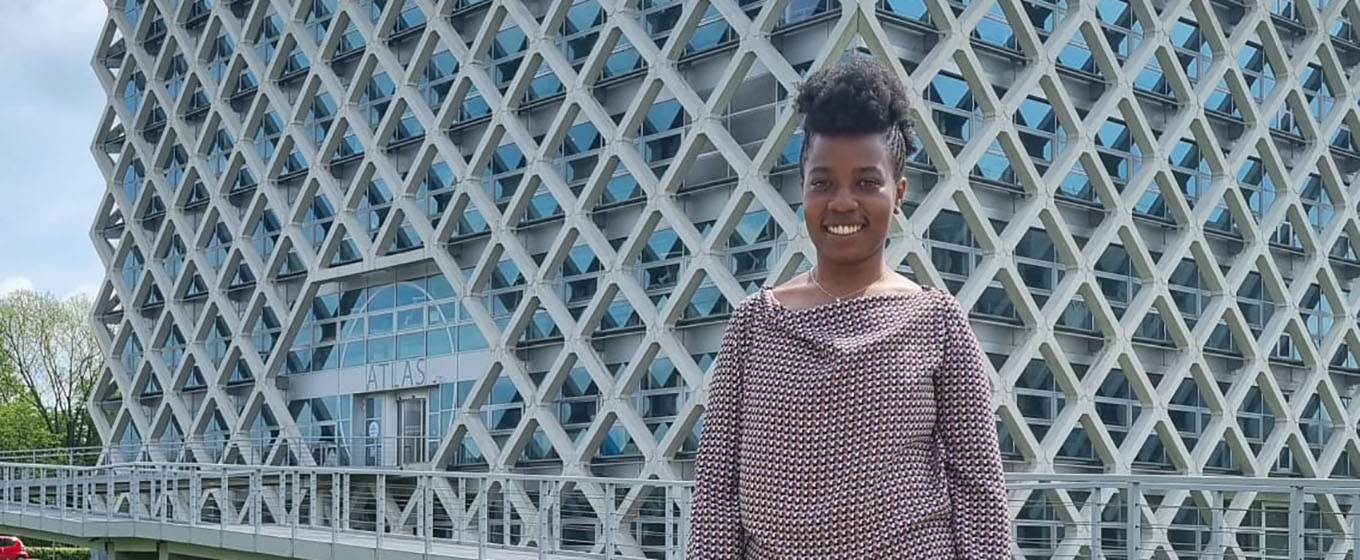 In the bustling crowd of people, rushing or slowly walking, alone, in couples, with friends or family; all in motion. The lit-up boards tell us where to go. The signs show how much time we have left. Which gates are opening? Which gates are closing? It smells like coffee and baked goods; of early mornings and orange skies. Aeroplanes take off, and they arrive.
In the middle of it all, we spot a woman standing. With one hand, she holds onto the handles of a suitcase. Her gaze is steady, and her presence is calm.
"Ever since I was a child, my dream job was something that would unite Africa and Europe."
And here today, in front of us stands: a woman, researcher, consultant, daughter, wife, and mother. All of that, and more.
Her name is Elisabeth Obeng.
Born and raised in Italy, in the province of Parma, she speaks with great fondness about what her upbringing gave her. Delicious food, the unwavering warmness of the locals, being surrounded by family and friends and an atmosphere which perhaps only a small Italian town can exemplify. But she has always had an unmistakable feeling of wanting to reach further out, curious about what is outside of her immediate context.
"Above all, I wanted to get a different experience. I had been studying in Italy for 18 years at that time, and I wanted to see how the world was outside of my bubble."
She recounts one decision she made, which grew steadily out of this feeling. In 2015, studying at Università Cattolica del Sacro Cuore, she had the opportunity to do something unique: a Double Degree. Of the many destinations Cattolica offered, one caught her attention in particular.
She was on a path to earn, not only, a Master of Science Degree in Agricultural and Food Economics from Università Cattolica, in Italy. She would now also earn a Master of Science Degree in Agricultural Economics and Rural Policy, from Wageningen University, in the Netherlands – a university globally known for its important output in agricultural research – within the framework of the Double Degree Programme in Sustainable Agri-Food Economics and Business.
So, she headed to the airport. Standing alongside her suitcase in the busy crowds, she didn't know when she would come back to Italy next.
Upon her arrival, she found herself in the historic, small and charmingly green city of Wageningen, renowned for its university which serves as the heart of the community. Elisabeth was immediately thrown into a new setting: far away from family and friends and working part-time alongside her studies. "I missed my family and friends very much, and that was not easy. But at the same time, for me, this was a time in my life when it was good for me to live by myself. It allowed me to become my own person."
She learned how to effectively manage her time, become self-reliant, and she explains that, in many ways, she got to re-evaluate what she is capable of.
"There was a course called Academic Consultancy Training. As part of a student simulation, you collaborate with others to act as a consultancy firm and offer feedback to a real client regarding a real issue. I think that course helped me understand that I'm quite good at that."
After graduating, Elisabeth came back to Italy and had the opportunity to work not only in one but in two completely different sectors. First, working in a more research-led environment and then, in the sphere of business. Thanks to this time in her life, she gained important insight that would guide her future choices and shape her career path ahead.
Her Double Degree experience had opened her eyes to not only what she was capable of, but what environments she thrived in. What she particularly loved was how she had gotten the opportunity to experience new cultures when studying abroad. "I loved having daily interactions with people with diverse backgrounds, not only in the culture itself but character and history, even interests."
Reflecting on this, she followed her intuition and once again a decision was made. She packed her bags. But this time, Elisabeth was not boarding a plane to earn a Double Degree. She was going back to Wageningen, to begin building her life there. To start anew.
Once back in the picturesque city, Elisabeth embraced this period as a time for reflection. And just as the greatest ideas come when we are least expecting them, this is also when she realised what she wanted to do next.
"This was the time I made a big career decision. I came from having worked in research and business. But I wanted something in between: I wanted to work in applied research."
Today, this is her profession at Wageningen Economic Research. She aims to bridge the gap between theory and real-world outcomes by combining her passion for research with a strong drive to apply research findings in practical settings. And not in any field, but in the growing and more important ever field of Sustainable Food Systems. Elisabeth possesses specialised knowledge of international agri-food trade, and she jokingly says that it's a "perfect photocopy" of her degree – she is now putting into practice what she learned during her university years.
Her role is to support the public and private sectors in initiating and leading the transformation to more sustainable food systems. From engaging with small business owners in Africa and the European Union to effecting change on a larger scale – always aiming at getting the most humane perspective out of any conversation with attention on rebalancing the power in North-South collaboration. She says that what she loves about the job, is too many to count.
She feels blessed to work with what she does, as it not only channels her desire to make a difference in the world but it echoes a bigger part of her. It brings her back to her roots.
Over 40 years ago, Elisabeth's parents took a big leap of faith when they moved across continents. From Ghana, Africa, to a small town in the province of Parma in Italy, extending and rooting, finding their way in a new country. And now, Elisabeth is starting her own family in the Netherlands. As a beautiful matrix, there is nothing that doesn't belong. Nothing excludes the other, and perhaps that is the way she chooses to live – with a desire to be in a context where inclusion is promoted, and diversity encouraged.
"I don't know where I will be 10 years from now, and that is ok. All I know is that I never want to be detached from the real world and real issues. I want to stay present, rooted in the daily lives of people."
She continues, "What I didn't see when I was younger, was that there is not just one path in life to reach your goals. All we can do is stay open-minded and accommodate whatever change comes our way. That is what I would tell my younger self: that you will reach your dream, but there is more than one way to get there."
And we once again look at the woman standing tall and proud in the ever-moving crowd. Shaped by the experiences that, step by step, brought her where she is today. With one hand, she holds onto the handle of a suitcase. With her other hand, she steadily holds on to what is dear to her. And she knows and has perhaps always known: if she doesn't let go of that, she is on the right path.