Reinventing student life en route to Beijing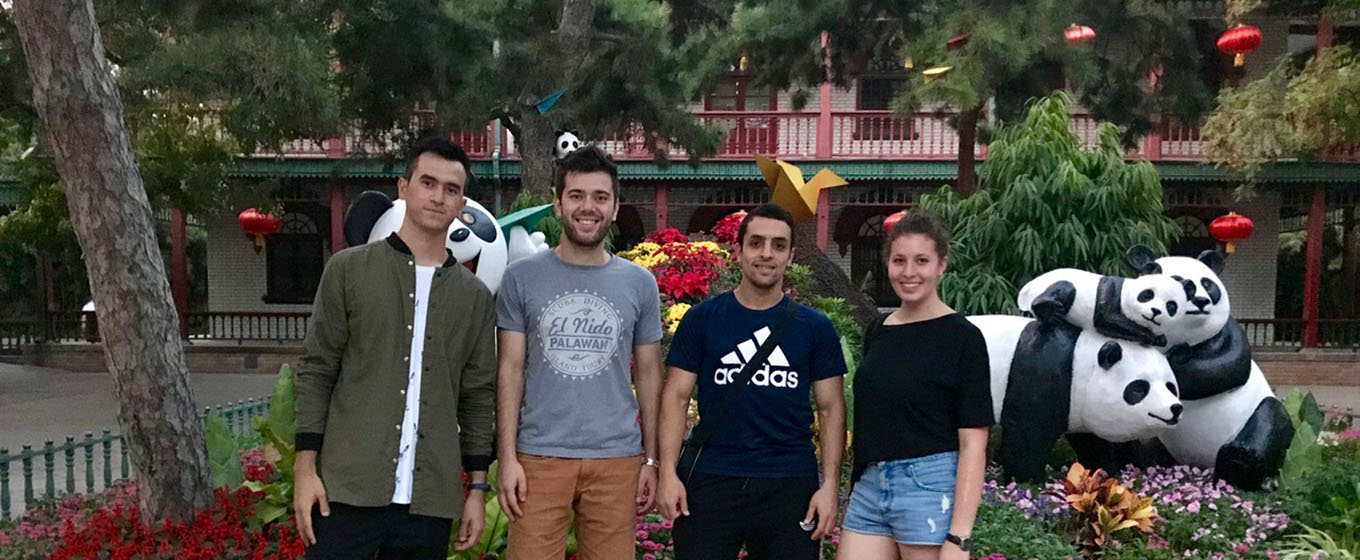 by Laura Bebre
A young student challenges herself to learn one of the most unique languages in the world and embarks on an unusual journey discovering a passion for a new culture and way of life in Beijing as a Double Degree student at Università Cattolica.

Roberta Lazzeri, who comes from the small town of Valdidentro in the Northern Italian region of Lombardy, is the first Università Cattolica del Sacro Cuore student to do a Double Degree at Beijing Language and Culture University in China (BLCU). Università Cattolica Double Degree programmes offer its students the possibility to obtain a double qualification by the end of their studies and a chance to study part of the degree course in a partner university. Roberta chose to follow the Double Degree in Languages for Business course with particular regard to the Chinese language.
Roberta was always interested in languages, but she truly found her vocation when meeting people from different countries through her family business – which runs a homestay for vacation rentals, "I found it so beautiful to share my daily life with people from different cultures and be able to speak with them." However, Roberta recognised that she did not want to study only languages and when she found the Languages for Business course at Università Cattolica which combines economics with language learning, she knew it was the perfect fit for her. The choice to study Chinese was a hard and fast decision for the young student. Roberta knew she wanted to study a language that is complex, one that she could never learn by herself. Her initial choice was between Chinese and Arabic, but once Roberta settled for Chinese, she knew she had made the right choice, "I fell in love with this language and culture."
Once Roberta had finished the first two years of her Double Degree programme at Università Cattolica in Milan and a language summer school to reach the HSK 5 level in Chinese - the first activity undertaken at BLCU - it was time for her to finally embark on her long-awaited journey to China in 2019. When Roberta arrived in Beijing, bags, luggage, and uttermost grit in hands, like many who leave home for a new country, she experienced culture shock, "China is a very different country compared to Italy. Culture shock is normal." Roberta was prepared and she knew that frustration, homesickness and occasional tears are a normal and expected part of her journey, "Everything is different, the people, the way of life, the climate. The distance and the jet lag are unbelievable."
Yet, when the initial culture shock was over, Roberta saw an entirely different side of China and the student experience there. She discovered that the Chinese BCLU campus was a mini world designed specifically for student needs. University buildings, bank, post office, gym, football field and canteen were within an arm's reach. "I loved it. It was like living in a dream with people of my age. We were sharing our passion not only for China but for everything else too," remembers Roberta. There she met many other people from across the world and made life-long friends, "We went on so many trips with the people I met. You give yourself the opportunity to know other people and trust them even though you just met them." Amongst studying in school and in cafés, training at the gym with her friends, taking Zumba classes with Chinese women and attending vibrant Chinese discos on the weekend, Roberta looks back on spending a night on the Great Wall of China as the most beautiful adventure of her life, thus far.
Also, the study methods took some getting-used-to. While in Italy students mostly follow classes, take notes, and prepare for the exams at the end of the year, in China Roberta had homework and tests every week. The students had to be always ready, and a test could pop up any day without warning. It was a continuous kind of study method and Roberta recalls it helped her a lot when dealing with difficult subjects, "After studying in China I saw immense progress." Moreover, Roberta believes there is no better way to learn a language and experience culture than going to that country.
Unfortunately, Roberta's adventure was cut short by the pandemic, and she was forced to return home after completing only six months of her two-year programme in China and follow the classes online. The time-zones, sleepless nights and reverse culture shock when returning to her small town in Italy on top of the world-wide pandemic all contributed to Roberta feeling the sense of giving up slowly creeping in. Yet, with the support of her family, determined spirit and the dream to return to China, Roberta managed to overcome the gloom and continue her studies online, "The determination is the first thing, and it leads you to where you want to arrive." She remembers one day asking herself "I managed to live there, my grades were very high, so why should I give up now?"
Roberta recalls that to take off on this journey alone was the best choice and she suggests the future students do the same, "Going alone was the right way to have the full experience. When you are alone you are freer to have new experiences. I was free to do everything I wanted." Despite it being hard, it allowed her to express a different version of herself and leave any prejudices behind. "By starting a new experience and not knowing anyone, you can start your life again. You become a blank canvas. Then you personalise it and come out of it as a new person. You are freer, you don't feel judged," says Roberta.
Despite the struggles of the pandemic, Roberta has officially completed the Double Degree programme at Università Cattolica and BLCU with a thesis on the life and business of Chinese entrepreneur Dong Mingzhu, whose story she found particularly inspiring. Her graduation ceremony will take place mid-January. Now she could finally fulfil her dream of packing her bags once again, full of courage and determination to return to China for another round of studies. Roberta now studies a Master's degree at the Peking University HSBC Business School UK Campus (PHBS UK) in Oxford and sees her future in a company that does business between China and Italy.