The (invisible) essentials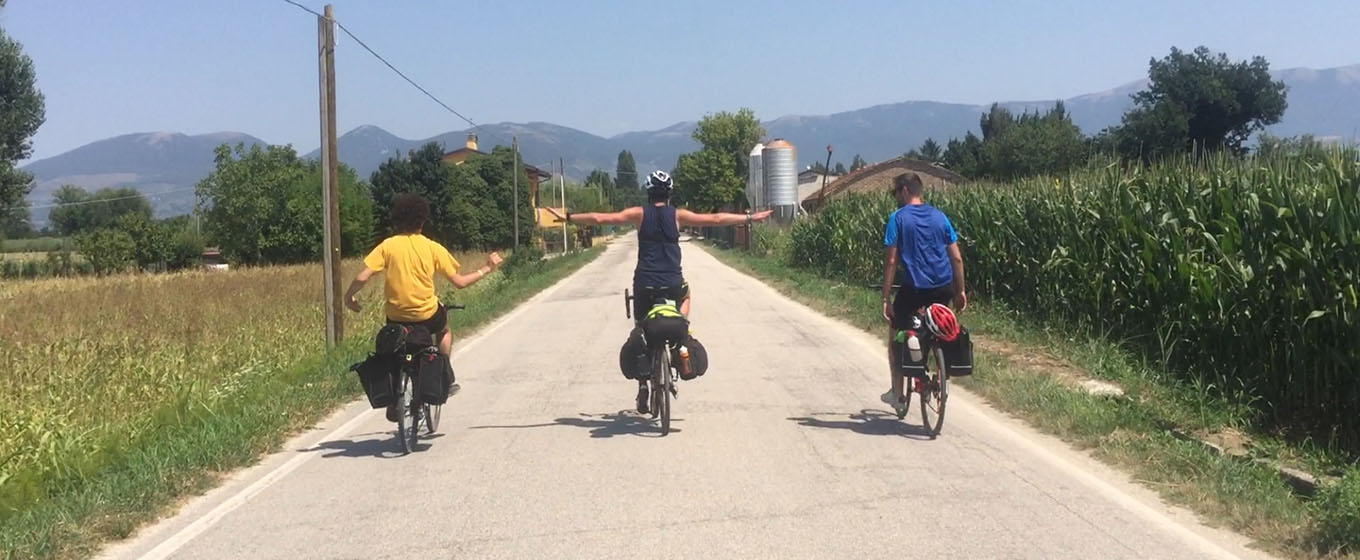 by Lisa Gunnarsson
What would you pack? You are going away for one week, but this is not your ordinary holiday. Rather, you will be cycling during the day: on dirt roads, gravel, asphalt, some days up to 50 kilometres; but in the evening, you will need somewhere to charge your computer - because it is time to sit in your lecture.

This is exactly what Matteo Matarazzo and Alberto Dotti did when they cycled for seven days from Florence to Rome, Italy. During this extraordinary trip, they challenged themselves not only physically, but with a desire to get even more out of the experience, and with their minds set on studying what they are passionate about - they, at the same time, attended an online summer session of University of California, Berkeley, USA. An idea like this does not appear out of nowhere, or does it? For the two friends, it was a line-up of incidents - life's unprepared strikes - a determined will and ability to adapt. A powerful drivetrain of ideas. To start unwrapping their story, Matteo and Alberto's friendship stems back to September 2018 when they first met through Scouting. Both being Scout leaders, they also realised they were in the same programme - Economics and Management, at Università Cattolica del Sacro Cuore in Milan.
They became friends, and for the summer of 2020, they were initially set on studying abroad together. Jumping into this, they were excited to hear about all the summer course opportunities of Cattolica International and the multiple options of destination countries and universities both in and outside of Europe. Finally, they decided to attend the London School of Economics and Political Science (LSE). They applied and got accepted to the summer course Managerial Accounting, but then, COVID-19 put a dent in their plans, and it was time to think of a plan B. It was no longer feasible to fly to London and attend LSE in person though many institutions across the globe had already switched to digital platforms providing students with a more accessible learning environment. Cattolica International suggested other possible options, and the two friends learnt about the opportunity to attend an online University of California, Berkeley summer session.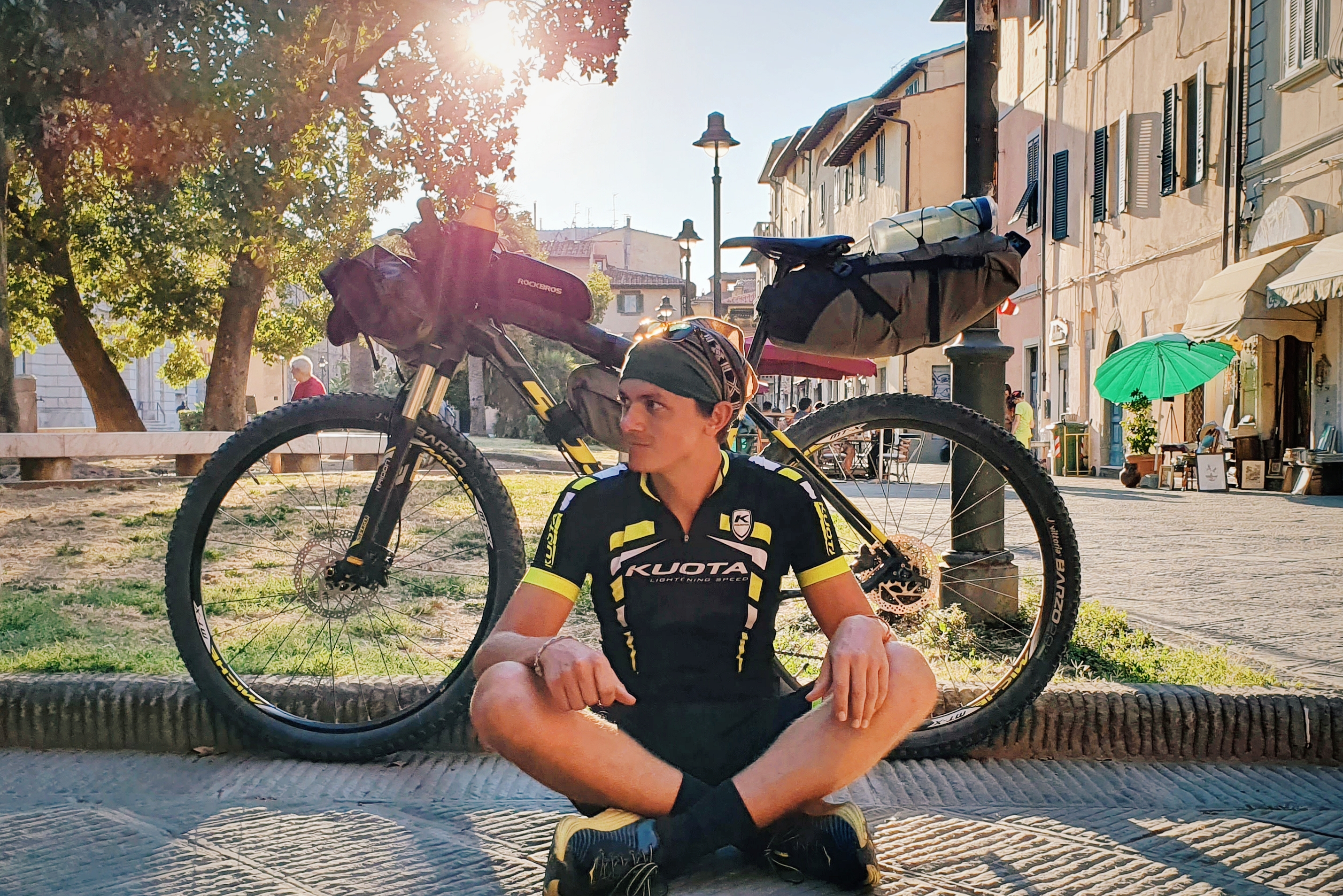 "We asked each other, and we wanted to do it," Alberto says, there was no hesitation.
But with this new decision, their plans about what kind of summer they would have experienced was now up for questioning. In the beginning, they did not plan to travel by bike. Their idea was to trek in the mountains. But as soon as they received the admission letter from UC Berkeley to attend the summer online course, they decided against going to the mountains due to one simple reason: there would be very little internet connection. Once again, their plans changed completely.
Like a Randonnée, cycling towards one city after another, eager to explore the historical landmarks of Italy and the individuality of each destination. They would cycle during the days and connect to their online lectures in the evenings: delve into the culture of what was directly around them, whilst exploring the culture of a virtual classroom set in California. The Italian language is spoken around them but with English in their headphones; the night surrounding the two friends, whilst the Golden State's sun still shone brightly. Intervals of exertion all within the colourful scenery of two completely different settings.
So, with the two friends' minds set on the new goal, they went ahead planning their one-of-a-kind trip. Despite the lack of time and expected difficulties with such an unusual journey like this, their optimism was enduring - however, this outlook was not shared by everyone. Matteo chuckles, "The very first reaction from my mother was "who is paying you to do this!?" People reacted in a way that both seemed to question the idea itself, and why it was worth it. But that did not stop them, if anything, it made them even more determined. Because they did not have anything to prove to anyone; they were doing this for themselves.
Alberto unfolds it to us with a smile. "I believe our decision to take on this cycling experience also has something to do with the fact that we are both scout leaders. The scouts' motto is "Be prepared." We had to readapt what we did outdoors and bring the experience online. We were not afraid because we were ready to put ourselves on the line and to learn a different teaching method. We thought to ourselves, it's now or never. It didn't take us long to make up our minds. We learnt that if you want to, you can - even with little time."
And on July 7, starting from Florence, off they went: Alberto, Matteo and four of their friends. Big water bottles filled to the brim, sunscreen, sunglasses, and rain jackets easily accessible from the bulky packed bags attached to the bicycles. They were ready. Or, rather, as ready as they could be. They began cycling in the early mornings to avoid the summer's burning sun and their goal each day was to make it to the determined city in the afternoon, in order to have some hours to rest before the lecture began between 11:00 pm and 2:00 am Central European Time (CET). The scenery could be earthy pale ground - coughing its dust amongst the bicycles' tires - with wooden fences framing the so contrastingly green colours alongside the road. Or there could be asphalt beneath them, and cars driving closer than what was truly comfortable. Flat landscapes or mountains lurking somewhere far away, as if they were calmly watching over the ever-moving group of friends.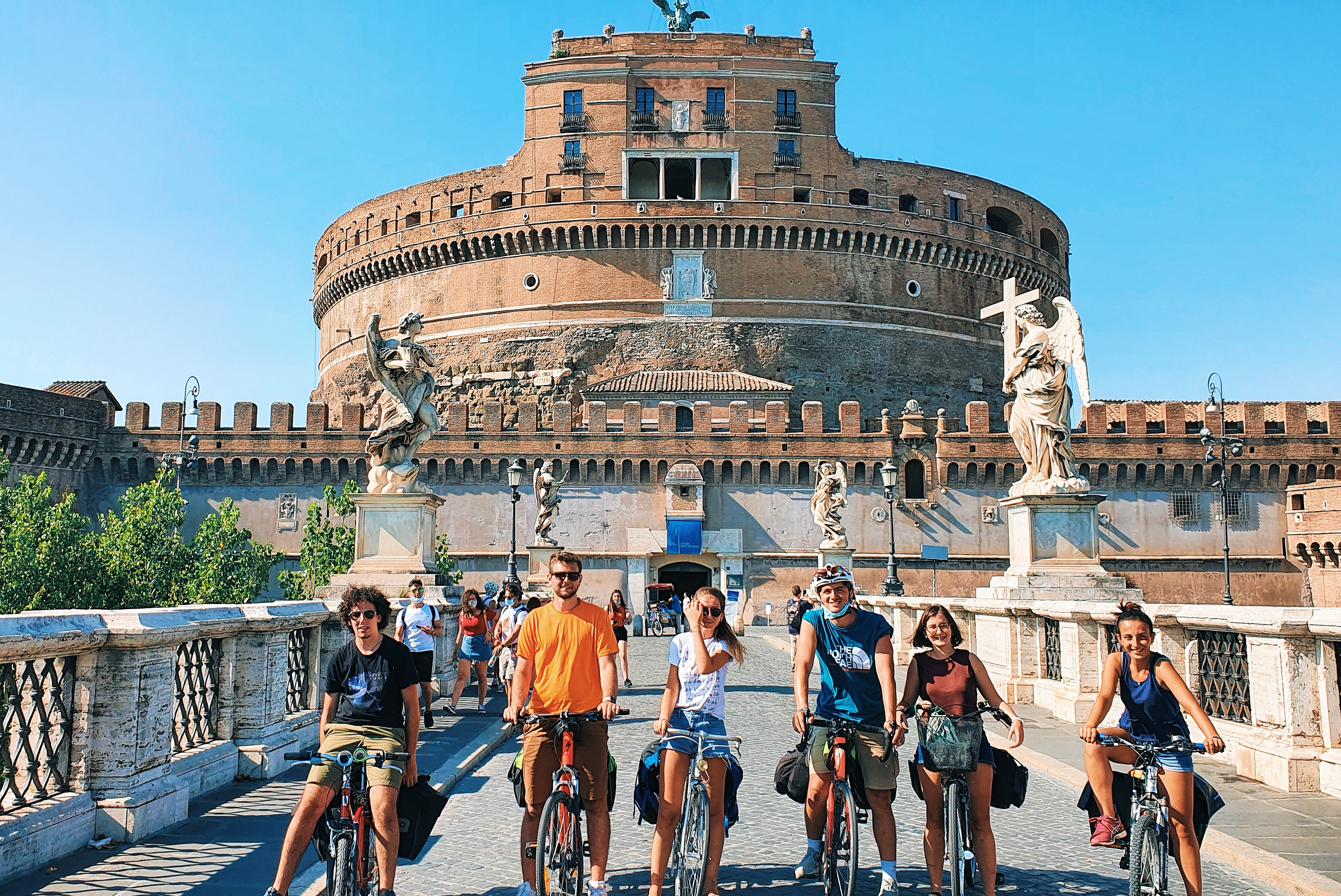 Alberto and Matteo would then, sometimes in dim kitchen lights, be attending the lectures from the Airbnb they were renting, sitting in front of the computer and having group discussions with their virtual classmates - without ever mentioning why their background constantly changed. If only the rest of the class would have known.
Not only being physically tired from the day, the time management component was also a big part of what made the trip difficult. Planning always works in theory, but as we are all familiar with, life sometimes seems to get in the way of that thought-out structure and order, and this trip was no exception. On one of the days, they were supposed to arrive in a small town in the province of Viterbo, but to their surprise the bike tracks no longer existed. So, this meant a detour, and the detour meant triple the amount of time to reach their destination. They had to cycle in the dark but finally made it to their destination safely at 10:30 pm. However, while telling us this story, Alberto and Matteo recall what happened the day after. "The next day, we recounted our story to a local in the building where we were staying. We later received a basket of goodies, with croissants and other snacks inside. It was a beautiful surprise."
To unpack their journey, we find many things. The experience of attending the online course at UC Berkeley was something that ended up teaching them more than just accounting concepts."Throughout the course, we did a lot of group work and got the possibility to meet different people, all from California. In fact, we were the only international students. It was amazing - strange, but amazing." But the most striking is the way the two friends describe their trip: with such calm and happy confidence in what they have seen and done, despite the obstacles encountered. There is no need to try to convince anyone of anything. They both know they came back with more than what they originally packed.
Because some things are invisible but undoubtedly present, teamwork, planning, friendship, and soft skills like problem-solving. What is unpacked from an experience might be overlooked, not easily recognised, but turn out to be the thing that truly shapes you. Alberto tells us that about the group itself, "From a mental point of view, we were very united, we know each other very well, but most of all, we already knew each other in moments of stress, tiredness. We know each other's limits. A group that works is the most fundamental thing - because it was important to not give up. Last year we were faced with challenges, like the cycling track that didn't exist anymore or technical problems with the bike we didn't know how to resolve. We had to constantly readapt ourselves many times, and to be prepared for any inconveniences."


And Matteo agrees, the hardships with the trip taught them more than they initially expected. "With the right organisation and time management, you can do lots of different types of experiences at the same time. It taught me how to organise my time before beginning something - in this case, my study space and free time with my friends. I was able to take a big leap from this point of view," he says.
The future seems to hold more of these adventures, and the two friends are already planning. They mention a possible option: the Berlin to Copenhagen cycle route, and do not seem discouraged by the approximate 11 days of cycling and the 500 kilometres in total to get there. In fact, after their journey from Florence to Rome, they went on a similar trip this summer, on their bikes from Milan to Isola d'Elba. On the first day of that journey, they were already on the road at 5:00 am and after 12 hours and 160 kilometres of cycling, they arrived in Genova. And they took all the learning lessons from their first trip and acted upon them: they know about setbacks, road rashes, but they also know the importance of teamwork, because after all, even though the Domestique will never be the centre of attention - he is inevitable pivotal for a team's success. They know the importance of planning ahead but, maybe, more importantly, they know that unexpected detours will inevitably appear. It is all a matter of how we react to those circumstances. A learning lesson about acceptance - and they both carry a never give up attitude.
So, what did Matteo and Alberto pack for this trip?
Alberto says, "What is essential is invisible to the eye." (The Little Prince)