A young doctor's jouney across borders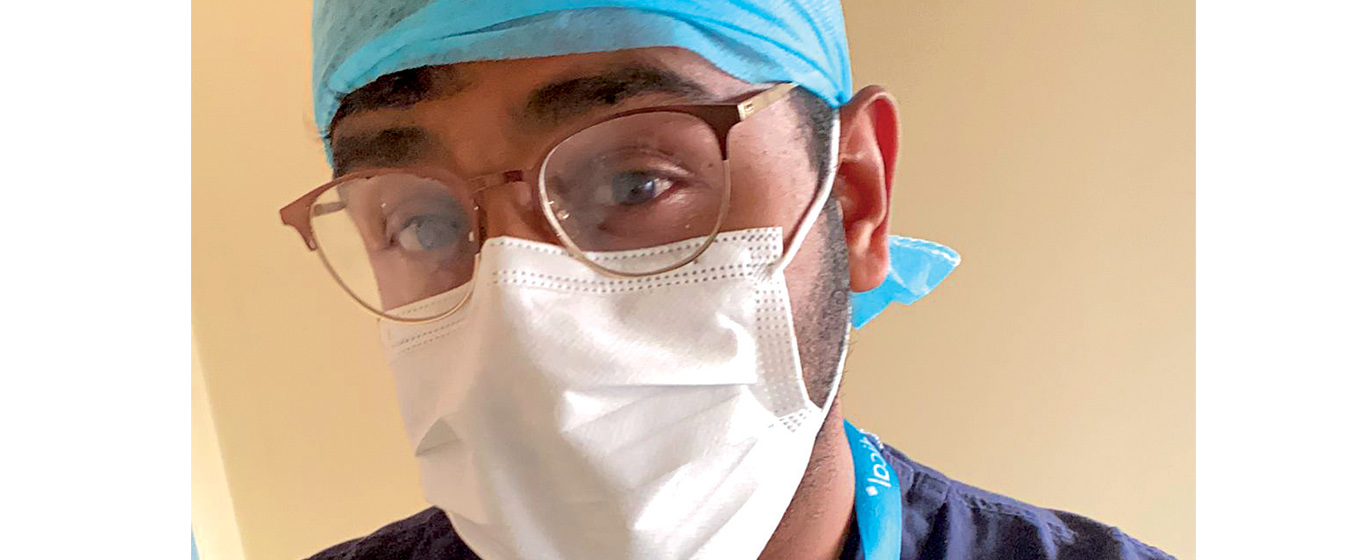 by Laura Bebre
An academically outstanding, driven, and young international student was one of the first to graduate from the newly founded Medicine and Surgery programme at Università Cattolica del Sacro Cuore in Rome, on July 25, 2019. Today we meet the 26-year-old doctor amidst a Fellowship in Surgery and Critical Medicine in Dorchester, England and being a handyman around his new home with a remarkable story to tell.
Sanal Abraham's extraordinary journey has taken him all over the globe. He is of Indian origin, born in Saudi Arabia, schooled in the United Kingdom, and first arrived in Rome to study Medicine at Uni-versità Cattolica in 2013. While there is no one straightforward answer to why Sanal chose to study medicine, he admits he was always interested in sciences but believes medicine has the unique and rare quality of being not just a science but a form of art.
Having such a vibrant background, part of Sanal's life was always about moving around. Once he finished school in the United Kingdom, Sanal knew he wanted to experience a new culture, language and even cuisine, "I wanted to go abroad and explore, I didn't want to come out of it with just a degree, I wanted to come out of it with knowledge about another country." Italy was the perfect place and Sanal notes that by the graduation date he had become a different person. "When you start university, you're still just a kid, even if legally you are an adult. I came out of it as a different person and that's not just because of the degree, it's all about your experiences." For Sanal, Rome is where history lives and questioning why one would choose one of the most beautiful cities on Earth for their study years is unheard of.
During his years at Università Cattolica, Sanal concluded that when studying medicine everything is about your initiative and commitment. "When you graduate from medicine, you don't graduate knowing everything. You know only the tip of the iceberg, there is still so much to learn," says Sanal. Medicine is a never-ending learning process and for him, Università Cattolica provided an excellent theoretical basis for further practical learning. "I am a strong believer that the practical aspects follow the theoretical aspects. If you have a strong foundation in theory, the practical aspects will come along once you start working." Indeed, Sanal admits that later, even his peers complimented the fine theoretical background he had acquired.
Despite the programme being new, Sanal soon came to realise that, when embarking on any new journey, if you are driven by your own ambitions and clear targets about what you want to achieve from the degree, you will find success. "There were a lot of opportunities that my colleagues and professors would present to me" remembers Sanal. In fact, Università Cattolica Policlinico Gemelli University Hospital, the best in Italy (based on the World's Best Hospital 2021 Ranking by Newsweek) and among the best in the world, provided the aspiring doctor, who was never afraid to seek out experiences thanks to his own initiatives, with many chances to meet the patients and face real-life situations, "I said 'Look, this is what I'm interested in, can I spend some more time doing it?'" Moreover, Sanal's determination and desire to learn took him as far away as Tanzania and India on a few weeks long learning trips in hospitals on his own accord.
However, Sanal's story is not one without obstacles. Sanal had only three days of rest after graduation before returning to the United Kingdom and putting on his new white scrubs to embark on the two-year Foundation Programme aimed at providing workplace-based learning for junior doctors and helping them to form a bridge between medical school and speciality training while rotating among different departments and experiencing various specialities. Yet, by the end of 2019 news of a novelty virus spreading in China started to appear all over the media and by early 2020 it had become a worldwide pandemic, leaving even experienced doctors in awe and humility.
Sanal remembers the start of the pandemic as both an enduring and remarkable experience. When the first wave hit, he was working in the Accident & Emergency Department in Diana, Princess of Wales Hospital in Grimsby, Northern Lincolnshire, England as part of the Foundation Programme. The Accident & Emergency department is the first point of call for any patient and Sanal was seeing a lot of people in need. Soon, the department was categorised into red and green categories, where green stood for non-COVID-19 related patients and red for COVID-19 affected patients. Sanal remembers the situation getting worse, "Eventually, red took over all the departments because that's all you were seeing at the time."
When it was his time to rotate among the specialities, Sanal ended up in the Respiratory Medicine ward. There he got to see a side of the pandemic he did not fully comprehend in the Accident & Emergency department. "It really put things into perspective for me because in Accident & Emergency what you see are the people who are first presenting a complaint. You don't see the full picture, you don't see how they evolve, you don't see if they get better or worse. While in Respiratory Medicine you saw the evolution of these patients. Some of them, unfortunately, did not do very well and some deteriorated even further."
The pandemic was not just an unexpected experience for the freshly graduated Sanal academically but a challenge for his theoretical knowledge. He admits it did take its psychological toll as well, especially for the "newbie" doctors such as himself. "You were seeing patients unwell and dying on quite a regular basis, which is not something that you are used to in any way when you start your career in medicine." Yet, given the circumstances, Sanal's character remained unbroken and the opportunity to make a difference was gratifying. During the pandemic, Sanal got the chance to do things he would otherwise not be doing, which further increased his competencies as a person, especially in the way he deals with the patients, which, Sanal remarks, involved a lot of emotions and opened up a more altruistic side of his persona. "It was an incredibly demanding and emotional experience as a person because it's something that usually a consultant deals with or somebody who's more experienced. Having been in a situation where you have to do that yourself was quite endearing to me as a person and as a doctor."
While it certainly involved emotionally taxing aspects, being in a position where a lot more was expected of Sanal helped him become more confident as a person and a doctor, especially in the way he deals with patients. "I am a more competent person in terms of my practical and theoretical knowledge because I was at a point where decisions came down to me." Undoubtedly, despite the hardships, the experience of the pandemic helped Sanal reinforce his passion for medicine and feel more comfortable not only as a physician but also as an empathetic individual. Empathy for Sanal is all about truthfulness when facing life or death situations "It's more about being open and being truthful to your patients."
After facing the pandemic and rotating among the various hospital departments as part of the Foundation Programme, Sanal is now taking part in the Fellowship training in Surgery Critical Care which is part of the complex journey of becoming a Specialist Physician.
When looking into the future, Sanal's choice lies between being in Otolaryngology or Critical Care. While they are two different career paths, Sanal is actively doing a mixture of both in the Fellowship and intends to finish his specialisation in the United Kingdom. Nevertheless, Sanal is always open to opportunities and doesn't exclude a chance of moving abroad once he will become a specialist, "I think this will open the doors to me quite a bit because it would allow me to work just about anywhere." New Zealand, Australia, America or a return to Italy are just some of the options Sanal is considering. He also contemplates returning to his roots and working as a specialist in India another plausible option. However, Sanal doesn't consider himself a person who plans too much ahead, "My life has been quite unpredictable until now."
While Sanal's professional life is remarkable, once the scrubs with pockets full of pens and the stethoscope are off, he leads a well-balanced and homely life. Apart from racing through the hospital halls and navigating the mysteries of the human body, Sanal has just bought a house in his hometown in the United Kingdom and is doing refurbishment works while taking care of two little kittens who as Sanal laughs "keep him quite busy." In his spare time, Sanal enjoys playing badminton and going out with his friends to unwind after a hard day's shift. He even keeps in contact with some of his past colleagues from Università Cattolica who have come to visit him in the United Kingdom. Sanal himself can't wait to return to Rome once the travel restrictions become lighter, "I went to Rome as a teenager, and came back as a 23-year-old. I think there was a drastic change in my personality and who I became as a person in terms of my individuality, in terms of my character. I consolidated who I was while I was in Rome." For Sanal, Rome and all the people he met and looked up to helped to build the person he is today, "I'm just waiting for things to ease down a little bit more and the next thing I'll be doing is taking a flight back to Rome."
Whether he is being a handyman in his new home, facing the excruciating challenges of the pandemic, performing his daily routine as a professional in the hospital or thinking about the next flight to Rome, Sanal's mission-driven spirit, reinforced his passion for medicine and desire to move forward in his journey is unmatched. Sanal has the distinctive ability to be truthful and analytical while not losing sight of empathy and what it means to be human. Whatever the hardships, Sanal has come out of it stronger, and his story has many more adventurous chapters to be filled.