The story behind the stories
by Lisa Gunnarsson

Effortlessly, her gaze fixed on the laptop screen, she gathers up her long ash brown hair with a claw clip. The syrupy heat outside the open window barely seems to move, pointing out that it is July and gives the air conditioner in her room a whole new meaning since she first moved in. Sitting at her desk, she can hear a group of girls chatting in a beautiful foreign language on the street as they pass by the ground-floor apartment. Next to her rests a cup of brewed black coffee on a coaster, she takes a few sips, but today she can't enjoy it as much as she usually does. She is profoundly nervous. The kind of nervousness that runs up your spine and reaches your cheeks with a heat flash, that reorganises your words to come out in a different order than you planned for. She is about to conduct her very first interview. Grabbing her purple notebook, she once again looks at the questions she has prepared. At this point, she wouldn't be able to tell how many times she has read them. The interview is going to be online, and she checks the time - four minutes left. She puts on her headphones, the white cord connecting her to the laptop as if the screen is the only space she will now occupy, nothing outside remains in existence and she soon forgets about her cup of coffee. Her deepest breath is shallow and sharp. One minute left. She connects to the call, and the interview begins.
Nine years ago from that moment, Laura Bebre was 16 years old and far away from the summer heatwaves in Italy. She was in Latvia, where she grew up with her family in a cream-coloured house an hour outside of the capital Riga. Here, life offered every bit and piece of nature one could ask for. She could step outside of their family house and within ten minutes by foot be swimming in the lake with lush forest surrounding her. To meet up with her friends, she could just take her bike, which was and still is her favourite way of getting from A to B. In her room, the walls are painted in her favourite colour: light purple, and as the evenings are accompanied by the kind of dark you cannot find in a big city, a bedside lamp would always be seen lit in that room as Laura crawled up in her bed. She had always loved to read, but at some point, during these early teenage years, she had put that aside. Now, instead of a book, she would pick up her notebook and a pen. In her notebook, she scribbled down thoughts about life, relationships and what surrounded her. She started practising a skill she didn't know would come to play a big part in her life, but it was an unclouded pleasure of creating and a way of expressing herself. "I would write when I was very happy or very sad. During these heightened emotions."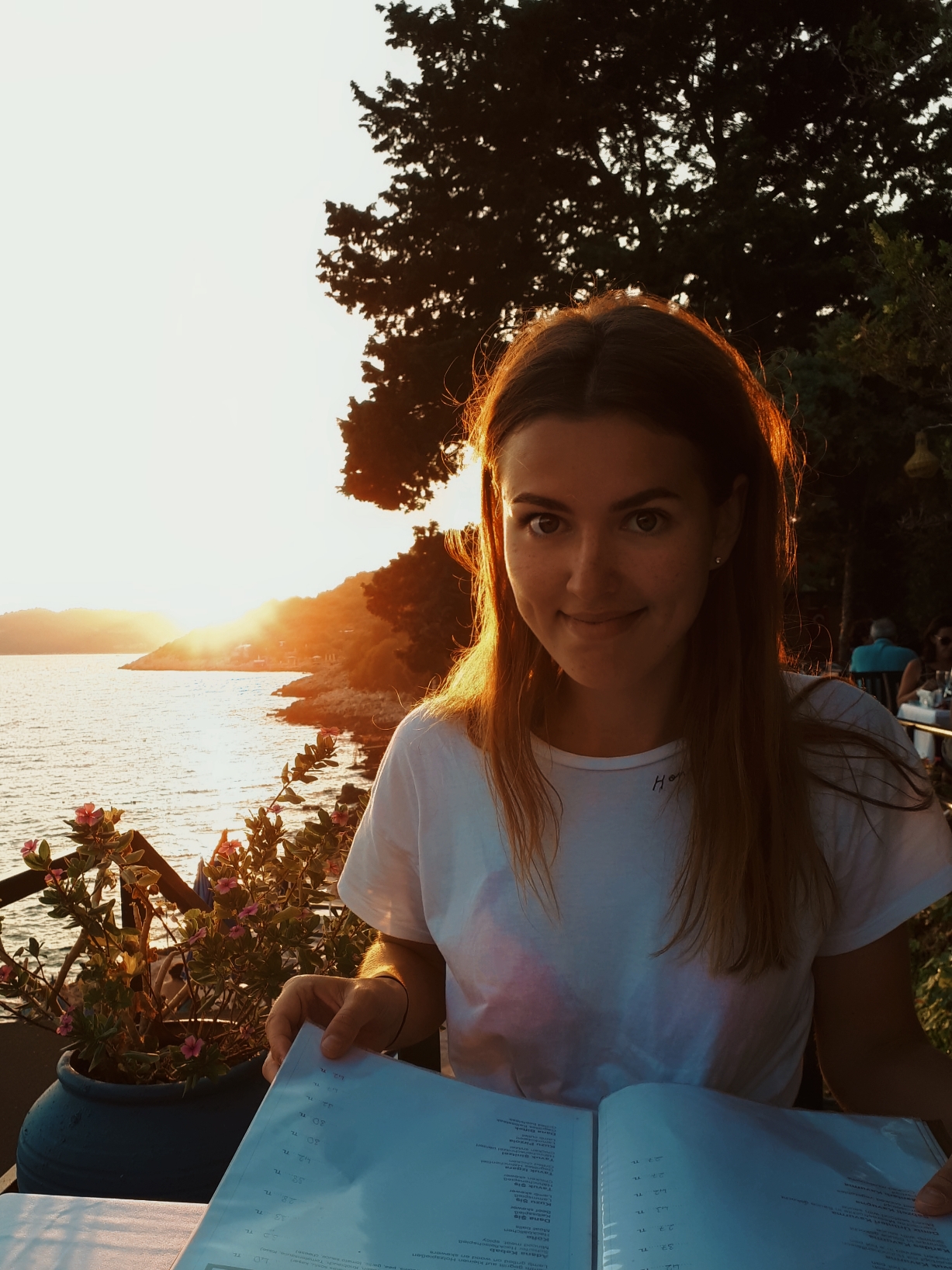 As the years passed, reflecting a growing enthusiasm for words, within and between people, she eventually decided to pursue a bachelor's degree in Intercultural Communication, at the Latvian Academy of Culture, in Riga. Here, she spent the upcoming four years before it was time to decide on a master's degree. But Laura wouldn't just choose anything randomly. Rather, she began looking at many different programmes, comparing the courses with the wish to find something that truly stood out. When she couldn't find anything that spoke to her, she started looking outside Latvia. One of the places that already had a special place in her heart was Italy. During her bachelor's degree, she took the opportunity to go on a 6-month Erasmus experience in Rome and loved it. "When I went on Erasmus to Italy for the first time, I wrote a lot about Rome as a city, romanticising it. It was an amazing experience. All the history and food. And the climate. I come from a very cold country, so that was huge to me. Like, it is December, and I can go out with just a leather jacket!" So, with her eyes set on Europe's finest boot, she started doing more research on master's degrees and it did not take very long until she found Università Cattolica del Sacro Cuore in Milan.
"I did not find any other university that could offer a programme like this, so clear-cut and focused on very specific topics. I also knew it was a good university because I had heard about it before when I was studying in Rome. And this programme was exactly what I was looking for." So, she applied and got accepted, and began her journey in pursuing a master's degree: The Art and Industry of Narration.
Arriving in Milan, she soaked in every moment. As she anticipated, it was certainly different from Rome; emerging from the underground like a gaping bridge into the past, but still undoubtedly present. The history of Milan, and the campus of Università Cattolica itself, were beautifully encountered and woven together with the modern-thought and urban big-city pace. Even though it was a time of uncertainty, the COVID-19 pandemic just starting to make itself recognisable in Europe, she always tried to be at the campus every time it was possible. Participating in lectures seated in century-old buildings, walking in the courtyards and enjoying every nuance of what this student life was all about.
Then, one day she stumbled upon another opportunity: student work. This seemed to be a perfect idea, combining work with participating in what the university needed help with, somewhere she could easily arrive after a finished lecture. Without knowing what kinds of jobs were available, she said to herself that it really wouldn't matter what kind of job it would be, so she sent in her CV - with no idea what to expect.
Eventually, she got a call from an anonymous number and even though she usually never picks up, this time she did and on the other end a gentleman asked for Laura. "The man on the phone asks me 'Remember how you sent us your CV? Judging by your experience, one position that might be interesting for you is now open. It had to do with writing. So, without hesitation, I moved forward with it." Then, her task in the recruitment process was to write a narrative story as a sample text. As her story caught the team's attention, she moved on to the first round of interviews, and eventually to the second one. She made a great impression and before she knew it, she was signing the contract and was officially hired. Now, working for Cattolica International as a part of a project called Student Work Experience (SWE), she met her colleagues, assigned her first tasks and began to write.
Following this new passage of her time in Italy was a year of hard work. She was one of two student writers that were hired as storytellers: writing exciting stories about various topics ranging from studying abroad programmes to inspiring people, all somehow tying back to the university world. Some texts would be published on Cattolica International, Università Cattolica's international website, but the main writing tasks related to the work in progress: the seventh edition of Cattolica International's English publication, Worldbound.
The learning curve was steep, and Laura was working her way from one draft to another, each steppingstone taking her a bit closer to finishing the first story assigned to her. She would wake up early in the morning, before any of her roommates were awake, and immediately start brewing a cup of coffee and bringing it to her desk. She learned how to organise her time; deadlines to be met, and meetings to attend. Getting a taste of the working world whilst studying was both exciting and challenging.
Laura also learned how to conduct an interview: from the beginning to the very end, overseeing the entire process. How to find the right information, come up with angles that are new and exciting, and write down questions that will yield flavourful answers. To review those questions and most likely tweak them. And maybe tweak them some more. Conducting the interview, transcribing the conversation and finally writing the story based on that information. However, the most challenging part was undoubtedly the interview itself; the fine balance of leading without taking over; learning how to listen and tuning into someone's story. Finding the hidden colours of an answer that she could ask them to tell her a little bit more. But with practice came results and Laura could feel her courage grow as she learned how to trust her gut, to deviate from the written down questions when she felt that something should be explored further. Realising that there's an art to conducting an interview, those unplanned questions sometimes lead to the most important answers.
And another one of those priceless lessons from her working experience was the feedback. Working with real professionals in the field who knows writing in its purest form as their second nature, kept her challenged to progress in her craft. The ongoing feedback loop helped her retrace her steps, viewing her writing process more clearly and objectively. "Having feedback really helped me improve my writing skills. It has pushed me to look at my work from another point of view and I've learned to use words that I didn't use before."
However, even though she was truly enjoying her time with her studies, the city and her new job, it started to become clear where she wanted to go next. The cream-coloured house one hour outside of Riga seemed further away than ever. She missed home. She missed being around family and her closest friends. She missed the way of life, nature, her mom's beautiful garden where she grows vegetables and berries in the summer and, perhaps most of all, she missed her beloved Rottweiler: Nero. "When he was just a puppy, I took care of him and thanks to that time we spent together whenever I go back, he gets so happy."
But despite the challenge of being far away from home whilst pursuing her goals, that year of hard work gave her something that she never would have expected when she first took off to Italy. Not only did she improve her writing skills and grow her confidence in conducting interviews, but the insight into what it means to be writing as a profession made it clear what she wants her future to consist of. "It is easy to write in your diary and say "I want to be a writer," but this student work experience gave me this opportunity to do it professionally. And it provided me with a peek into what it could be to work in this kind of atmosphere." Even though she doesn't know exactly what the future holds, it doesn't matter, because she has decided on a path: "I can't name a specific profession, but I want to continue writing. Not writing a book, rather I really like the format that I wrote for the magazine. I like real stories and real people."
And soon, she will be graduating with her master's degree from Università Cattolica in Milan. Knowing she will come back to visit many times in the future, she closes this enriching and exciting chapter of her life and takes away everything that it gave her. She already imagines visiting her childhood home and walking up the driveway greeted by 50 kilos of happiness with a smile that could melt anyone's heart.
The only difference is that when she returns home this summer, lying in her suitcase, is the magazine: Worldbound.
All the hard work of the past year is captured in something she can touch and flip. She shows the colourful pages to her family and friends. A tangible piece of growth in its final shape and form. She picks up the magazine and turns to page 48, her carefully chosen words printed. Even though this was the first article she wrote, based on the first interview she ever conducted - on a sweltering day in July, her hair held up by a claw clip and her favourite purple notebook with the scribbled down questions laying on the desk next to her - she remembers it like it was yesterday.
"Thinking back to that interview, even though it was terrifying, I know that was the moment I realised what I want to do in the future: conduct interviews and write people's stories."