Game of series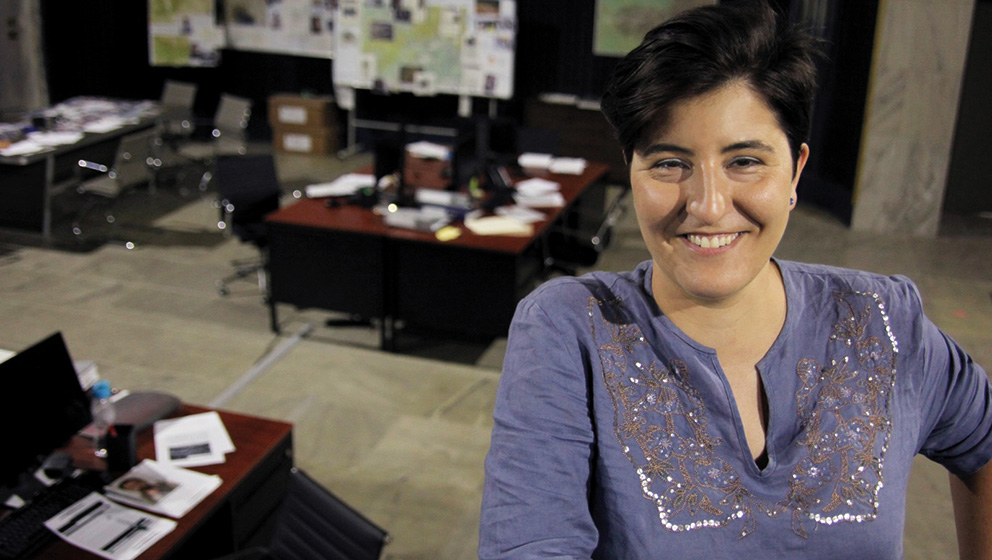 by Matthew Burgos
Generation Z don't know a world without WiFi or 'bingeable' TV shows. This generation experience an overabundance of choice when it comes to their entertainment needs, thanks to streaming services such as YouTube, Netflix, Amazon Prime Video, Hulu, and Sling TV, just to name a few. Università Cattolica Alumni, Beatrice Belli is fortunate to sit behind the scenes of some of the most loved TV series by Generation Z, including Homeland, Game of Thrones, and Bones. During our interview with Beatrice she also revealed the non glamorous side to working in production.
There is a slight audio and video delay from the signal. The microphone cackles as she tests the audio. As soon as the video pops out, she adjusts her camera to a different angle until the lighting looks perfect. Then, Beatrice Belli, wearing a red casual shirt, smiles, and waves her hand from her temporary apartment in Morocco.
Beatrice is working for the TV show "Homeland" as a Travel and Accommodation Coordinator. She is in Morocco where she is tasked to bring the cast and crew of the series to their shooting destination and arrange their accommodation. Not only does she need to ask around for places to stay and enter the contact details for the flight, but she also needs to prepare the visa applications of everyone involved.
She also makes calls to rent equipment for the production, prepares the documents for its imports and exports, then arranges the payment for customs taxes and fees. She buys stationery to refill the office supplies from paper clips to staples. Basked under the Moroccan sun, Beatrice will soon go to the office, picking up the telephone and dialing numbers to book the flights, prepare the necessary documents, negotiate for housing contracts, and anything that can be done before and after the shooting.
Beatrice began her career when she didn't know what to pursue after graduating high school. She narrowed down her choices to what she enjoyed doing until one of them stood out the most: watching TV series. She had been enamored by the dialogues, scripts, special effects, cinematography, and soundtracks. She didn't want to just watch them. She wanted to be inside that world. This led Beatrice to study Media Sciences and Technology for her undergraduate degree and pursued a Master's degree in Communications for Enterprises, Media and Complex Organizations at Universita Cattolica del Sacro Cuore.
After graduation, she landed a job as an entertainment journalist for an Italian company. During her time there, she earned her journalist's badge which allowed her to transfer to Los Angeles to continue her work. There, she had the opportunity to attend press conferences, interview TV personalities at the red carpet events, and visit TV production sets to write news and entertainment stories online.
It wasn't all glamorous. The field interviews only happened once in a while. For the most part, she would sit in front of a desk ten hours per day, translating news from English to Italian. Though she liked online content curation, she wasn't cut out to do just that.
Beatrice craved a more active role in her career. Even though she didn't aspire for acting, directing or script writing, her pragmatic attitude and strong organizational skills proved to be assets for production management. She enrolled in "Business and Management of Entertainment" and "Producing for Movies and Television" Certificate Programs at UCLA Extension to further widen her path in production. She studied it for a year with unpaid internships here and there and a lot of evening classes. It grounded her production skills and opened a door to pave the way for extensive career opportunities.
Then one day, Beatrice's phone rang. Whenever the phone rings, Beatrice's heart beats fast. It is either a telemarketer offering a new subscription plan or some groundbreaking news she has been waiting for: the chance to work in a TV or movie production. This time, it was from a recruiter she had met when she still managed the fansite of her favorite TV series "Bones."
She answered the call and heard: "Would you like to work as an Office Production Assistant for Bones?" It must have been a dream, Beatrice told herself. There was no way she had heard it correctly. Holding her phone to her ear, she stood frozen and asked for clarification if it was the TV series "Bones." It was.
Beatrice tried to calm her wild-beating heart by breathing out slowly before accepting the offer. "I couldn't pass the opportunity," she says. "But there was a slight problem. I think the recruiter assumed I had a car because if you live in Los Angeles, everyone assumes you drive a car. At that time, I didn't have one, but I told myself I would not lose the offer just because I didn't have a car. So before starting the job, I spent my days searching for a used car to buy. It was never part of the life plan there, but there it was!"
Even after Bones wrapped up for its final production, Beatrice was still on cloud nine to had worked with her favorite TV show. "I mean, I think that could be my first and last career in production!", she jokes.
But the adrenaline did not last long. Since her line of work is project-based, she was on the hunt for a new project again as soon as Bones let her off the hook. It had been a tough job search for Beatrice, from Facebook posts, to calling her contacts for new TV shows or movies. She didn't receive any feedback. Three months later, she was about to run out of money. Her bank account could only afford a one-way ticket back to Italy.
She was on the verge of leaving Los Angeles when she was offered a job for the FOX series "Behind Enemy Lines" as an Office Production Assistant. After this project, NBC drama "This Is Us" gave her the position as a Production Secretary in the same year. Then, her visa expired after the two projects and the price to pay was steep for Beatrice. She decided to return to Italy where she worked for the FX series "Trust" as an Assistant Unit Manager.
Four months later, she was chosen as one of the thirteen participants as a Production Coordinator trainee held by the BBC Academy in Cardiff, United Kingdom. The extensive training taught Beatrice how to further master her production skills for her future endeavors. The new energy she had found craved for an outlet where she could apply what she had just learned. She didn't have to wait long.
"I got a call," she says. A recruiter asked her if she was up for an Assistant Production Coordinator position. "That was a new position for me. I felt that it would be a step-up for my career. Then, when I found out the name of the show? I gasped." And who wouldn't if offered a job for the TV series "Game of Thrones?"
But just when the deal was about to be finalized, Beatrice received another call. The excitement drained as the recruiter broke the news. A long-running member of the production staff replaced her for the position.
Beatrice didn't know what to say. "I remember standing there in the room with the phone to my ear, speechless and heartbroken. I was so close to getting it. I mustered up the courage to ask the recruiter if there was an alternative position. She told me that there was a vacant position."
Beatrice was offered to become a Production Assistant for Game of Thrones. The catch was that she needed to provide for her own accommodation, transport, and travel expenses. It meant paying for costs higher than her pay. "Maybe a person in the right mind would have said "no," but this is Game of Thrones! So, I accepted the job and flew to the shooting location in Spain," she says.
The shooting lasted for two months, but right after the Game of Thrones, the Spanish team she had worked with asked her to stay for what became her next project, the Starz TV series "The Spanish Princess." Then, she worked on another project where she needed to return to Italy for a Michael Bay movie "Six Underground" as an Assistant Accommodation Coordinator.
When Beatrice starts working in production, her energy buzzes but sometimes it flickers too. "One of the downsides of production is the long working hours. A production office should be up and running at least half an hour before the call time and once the shooting wraps up, the production team still needs to compile the day's reports, send out the call sheets, and make sure everything is ready for the next day. Time to have a life outside work? There is none. I think you can only put up with these kinds of hours if you are passionate about the job."
In the working environment, TV productions are action-packed, running like clockwork and bidding no time to stop. "In TV productions, you rarely get the scripts of all the episodes at the beginning. Usually, the on-set crew shoots episode one while the production crew prepares for episode two and the writers work on episode three or four. It is more of a collaborative effort too since everyone needs to work closely together to get the job done. I think you always have to move. There's always 'action' involved. It's fast-paced and something new always happens."
Beatrice has always found it exciting to work in production. The frenzied energy is not for the faint of heart, but her perseverance has led her to what she aspired to do. She has been in the media production industry for five years. Today, she fancies a more "balanced work-life type of career." She still wants to continue her career in the media and production industry but this time, to work inside a media network. "I wouldn't trade working in production for anything. I just love it and it's irreplaceable," she says. "But sometimes I think about time too. I want to spend more time with friends outside my workplace. I'm looking into it, but for now, I wouldn't want it any other way."
Article featured on Worldbound, edition n.2-2019.