This is our determination. Our grit.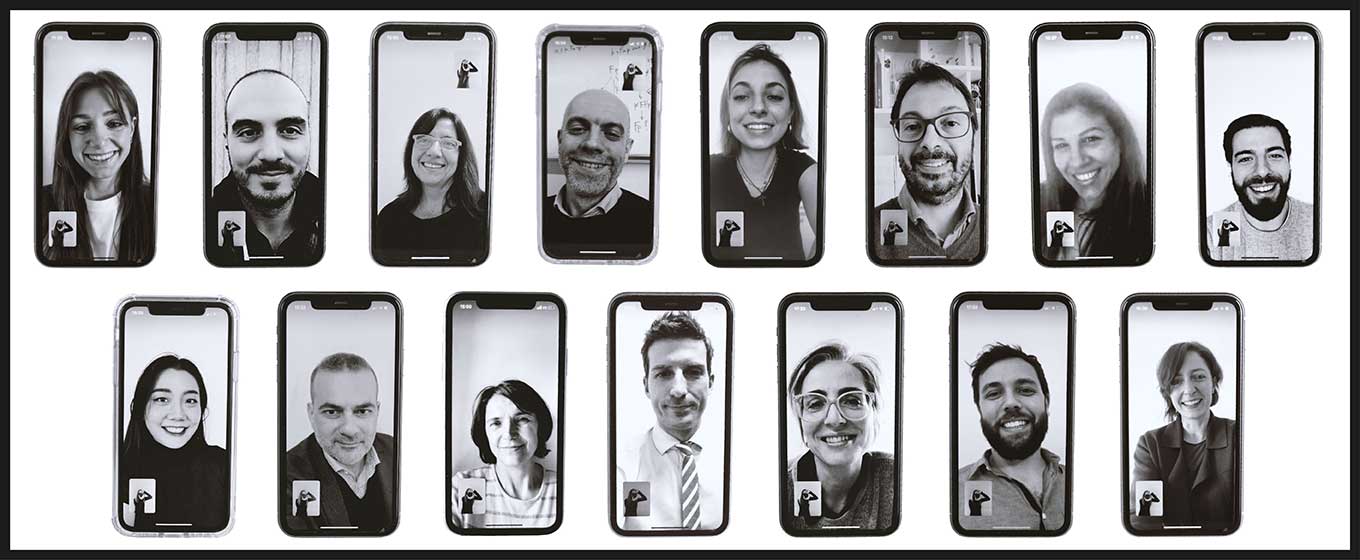 The act of resilience, the unprecedented times, and the new normal. These phrases have been the manifestation of the pandemic's pinnacle after having been inserted in everyone's day-to-day vocabulary. At Università Cattolica del Sacro Cuore, the new normal means gathering the community to support each other in adapting to the safety measures and regulations including moving classes from in-person to online, assisting the academic staff in hosting and delivering classes through digital technology, contacting students across the globe to update them on the changing situations, and enhancing the online systems and tools of the university to name a few. The unprecedented times signal the shift in the possibilities of internships and abroad opportunities from travelling to staying at home, the office hours of the academic staff from in-person to online invites and conducting more workshops and seminars via a live stream, among the other transitions. Yet the phrase "act of resilience" falls through the mission of the University as it restricts the scope of its undertakings. At Università Cattolica, the community embodies determination through actions.

Through the pursuit of Università Cattolica in finding a fitting description of its ventures during the ebb and flow of the pandemic, the adjustments and metamorphosis it has undergone from the strike of the global crisis, the search of definition to its pursuits lands on grit. Dr Angela Duckworth, the founder and CEO of Character Lab, becomes the trailblazer of the word grit, defining it as "a combination of passion and perseverance for a singularly important goal and is the hallmark of high achievers in every domain," supported by her research and team. To add its own spin to the term, the community of Università Cattolica echoes the philosophy of grit: acknowledging the highs and lows in responding to the academic, social and personal duties, but facing the challenges and successes head-on without the mindset of giving up.
"To me and my team grit has meant the need and determination to hit the ground running. Each and every day, ever since the pandemic started. To go ahead, together, and to keep going...," says Flavia Scott of ILAB (Centre for the Innovation and Development of teaching and E-Learning). Tommaso Biglieri (Accounting, Finance and Management Control) mentions how grit powers the capacity to turn complexity into energy to vigorously obtain a result to which Giacomo Maniscalco of Global Engagement and International Education adds, "grit is sticking to your inner nature, to your deepest instincts, even when it seems you are going against them. It is being childlike in the truest sense, not even considering the possibility of impossibility and moving forward no matter what. Grit is what pushes us, what shapes us, what makes us."
In July 2020, Università Cattolica founded the Strategic Alliance of Catholic Research Universities (SACRU), a network of a strategic alliance among the eight Catholic universities active in the research sector to strengthen collaboration on a global level between Catholic universities and pursue the aim of education of excellence resulting to an integral formation of students. The universities include The Australian Catholic University in Australia, Boston College in the USA, Pontificia Universidad Católica de Chile in Chile, Pontifícia Universidade Católica do Rio de Janeiro in Brazil, Sophia University in Japan, Universidade Católica Portuguesa in Portugal and Universitat Ramon Llull in Spain. "We are working alongside the other seven universities, who are very open to collaborations, including many research proposals, favouring the digital medium. Now, we have the 2021 - 2027 proposal for Horizon Europe, the research and innovation framework programme, a reference point for all European researchers," adds Professor Zoboli in our interview.
The advancement of one's knowledge through education has always been at the forefront of Università Cattolica's global initiative and more so during the pandemic as the community continues to bridge the gap of education between Europe and Africa through E4Impact. In partnership with ALTIS (Alta Scuola di Impresa e Società at Università Cattolica), E4Impact offers MBA programmes and scholarships to fifteen African countries, training entrepreneurs who make an impact in their local communities. "We never stopped working on new programmes and by next year we aim to reach twenty countries. I believe Università Cattolica and E4Impact's presence in Africa is one unrivalled within Europe," says Professor Mario Molteni, Rector's Delegate for Business Relations, and Full Professor of Business Administration and Corporate Strategy at Università Cattolica, Milan.
When Università Cattolica identifies its community, it expands outside the interiors and cloisters of the campus and its students and staff. The society provides its service to fall under the umbrella of its assistance, helping them foster protection and knowledge through the accessibility of information. The Cremona Food Lab of the University has published research on the psychological effects of the pandemic on people, delivering facts through science to better inform families and members of the community about the pervading crisis. "We have carried out another study recently, which relates to the concerns of the vaccination, as the vaccine is another element that will become a historical turning point for the pandemic," says Professor Guendalina Graffigna, Psychology Professor and Researcher.
The University's students and alumni have weathered the waves of the pandemic as they dabble in transitions that have harnessed their multifaceted digitals and offline skills. Francesca Sada knows she wants to pursue an international career experience through Università Cattolica but has had doubts as to whether she can do so considering the safety restrictions. As she persists in finding out the answers, she discovers the virtual internships that the University offers, jumps at the opportunity, and spends her summer working for a relocation company in Australia through her laptop, online video calls, and a stint in the sunny beachside of Palermo.
Caterina Masseroli also snags the opportunity to immerse herself into the English culture and language, packing her bags for Coventry in the United Kingdom to take her course credits for her bachelor's degree in Languages and International Relations at Università Cattolica. After winning the Erasmus scholarship, she clings to the chance to study outside of Italy while respecting the regulations of Coventry and the United Kingdom to ensure her safety and the people around her. While in Coventry, she studies from home and spends her time exploring the community she lives in, revelling in the moment of taking chances for one's growth.
The self-growth and grit have also taken place in Xinyan Wang. Flying back to China due to unforeseen circumstances, she finds herself accepting an internship that challenges and sharpens her communication skills while studying at Università Cattolica for her master's degree in Methods and Topics in Arts Management, sometimes watching recorded lessons and other times attending classes at midnight. Juggling two activities might hinder her progress, but Xinyan faces the activities head-on, seizing the time to learn and apply what she has studied at the same time. In taking on various activities, Donato Villani may champion the art of multitasking. In his summer programme with Stanford University through Università Cattolica, he works with an international team for a final project. Instead of allowing the final project to remain written on paper, they transform the words into a concrete registered business called WeResQ. Now, Donato studies towards his master's degree at Università Cattolica while spearheading the Feat Food, a food-tech company based in Milan that prepares and delivers custom meals across Italy, as the Chief Operating Officer and WeResQ, an app that helps its users to minimise their food waste at home, overseeing the innovation and business development sector of the company. Donato embraces the foundations of a fighter of the time, warding off excuses not to actualise what he has always wanted to do.
Through Xinyan and Donato, Professor Claudio Gianetti of Physics notes how "grit is being suddenly locked at home in the middle of teaching activities and finding a way to revolutionise the way we lecture. Grit is strongly believing that we will find a way to accompany students during their journey, although we do not know the instruments and tools we will have. Grit is carrying on long-term research projects while the labs are locked. Grit is dreaming and projecting the next-decade courses while rules and conditions are changing day by day. Grit is believing that our students are always there even if we do not meet them."
Like Donato, the spirit of transforming words into actions has resonated well with Sergio Pitrone. The Forbes 30 Under 30 alumnus of Università Cattolica spearheads ICAST, a casting management tool that simplifies the casting system from five days to five seconds, from hundreds of emails to one, and Vertumn, a creative agency supporting brands who intend to develop their own identity and communication to reach important market objectives through communication management, business analysis, design, technology, and marketing and start-up services, two companies he founded through his inability to surrender for every "no" he receives, driven by a dash of the law of attraction.
Ciro de Florio, Logic and Philosophy of Science Professor, narrates "there is a particular moment when everything fades around you. You see yourself from the outside and you tell yourself that it is okay; that it can be enough. There is a sharp piercing sensation in your legs. You search for air, your heart bursts. At that moment, your ideas, projects and goals are falling apart. At that moment your future is fleeting. Grit is knowing how to speak to that moment, knowing how to care for it. It is recognising that sooner or later it will come. It is not listening to what others say. It is taking that moment and carrying it on your shoulders. It is to keep running."
Università Cattolica del Sacro Cuore may be resilient in this unprecedented time, but its community forages to realise actions, the progress of growth flows despite the challenges. While the community believes in optimism, the sole belief in this philosophy reframes its purpose, so they do not plan ideas on paper and through words, but act on them to integrate them into the challenges; they do not wait for the solutions to come and unfold but seek and grasp them to fuel their plans. Determination through actions powers through our community.

This is our determination. Our grit.