The Recollection of a Blank Canvas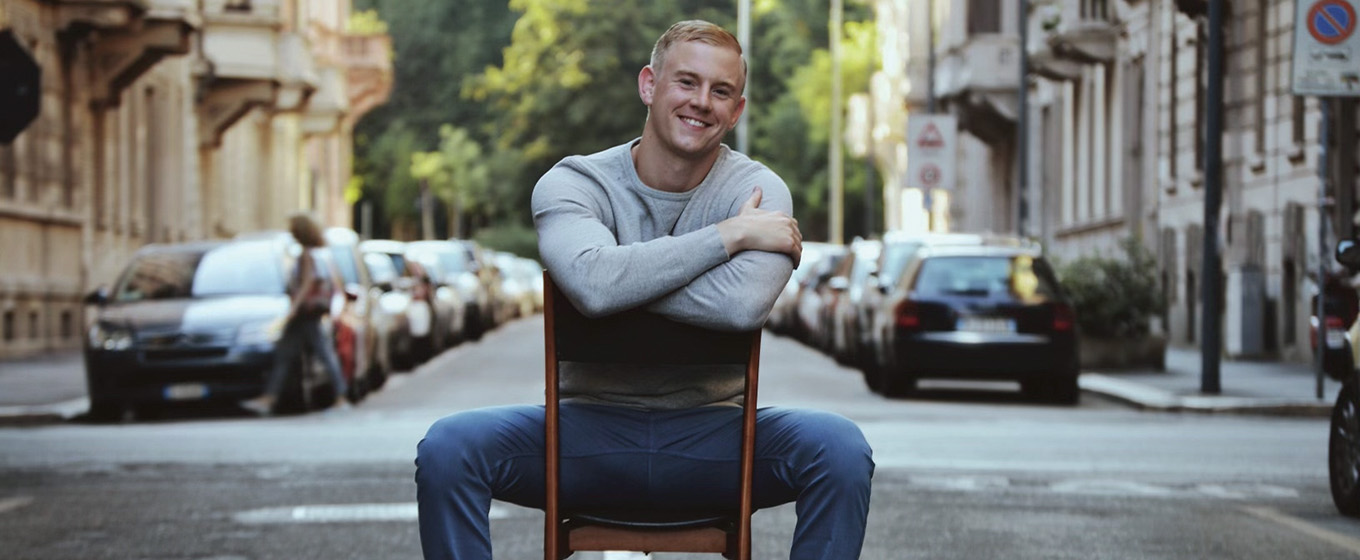 by Lisa Gunnarsson
Josh Young is an artist, designer, and tastemaker based in Washington, D.C. A graduate of Università Cattolica del Sacro Cuore, Josh's six years spent in Milan heavily influenced and crafted his overall artistic style. After returning to the U.S., Josh began working as a designer in the textile industry, in New York City's Flatiron District.
Inspired by the fusion of Old World elements married with bold, modern-day techniques, he has been experimenting with an avantgarde approach to classical portraits since 2009.
Josh has appeared in Architectural Digest, Elle Decor, Vogue Italia, GQ Italia, The Wall Street Journal, Domino Magazine, MyDomaine, O, The Oprah Magazine, House Beautiful, and The Maryn. He has collaborated with Nate Berkus Associates, Christian Siriano Interiors, Marie Flanigan and large-scale commercial projects like the newly built Draper Hotel in New York City and the Bulgari Hotel in London.
He also has worked with brands such as Williams-Sonoma Home, Jo Malone London, Circa Lighting, and One Kings Lane. Josh is scheduled to show at next year's renowned Salone del Mobile in Milan.
Not until the city, its pace and its people settle. Not before and not until he walks up the stairs - from his apartment to the studio - his story can be properly told. During the day, bold strokes of sunlight sketch the room's palette of warm whites and ivories. Fresh tulips and hydrangeas framed like artworks themselves and piled-up coffee table books on antique furniture with titles such as Cézanne, Gauguin, and Giacometti. Every angle of his home is picture perfect like a magazine spread, reflecting his personality - the contour of a perfectionist, but with quirky "Klimt-kissed" details. Now, this elegant mosaic of contrasting elements is portrayed through dim lights and burning candles. The studio is taking its sleepy breaths in the company of the man who at this hour, is more than awake.
As the dramatic piano and string orchestra of Abel Korzeniowski fills the room, he looks at the blank canvas and begins painting.
Working with layers takes time - allowing each to dry before moving on to the next. If there is a part of his life where he is patient, it is for his beloved art. But for life in general, he does not wait for things to happen. With a winsome smile on his face, his family and friends are used to witnessing, usually without any notice, how he throws himself into the realm of uncertainty - a move, an idea, a change - from one day to the next. "I have always found myself at those pivotal ages or pivotal moments in my life, where I feel like there's a change needed," and perhaps it was this impulsive intuition that brought him to Milan in 2009.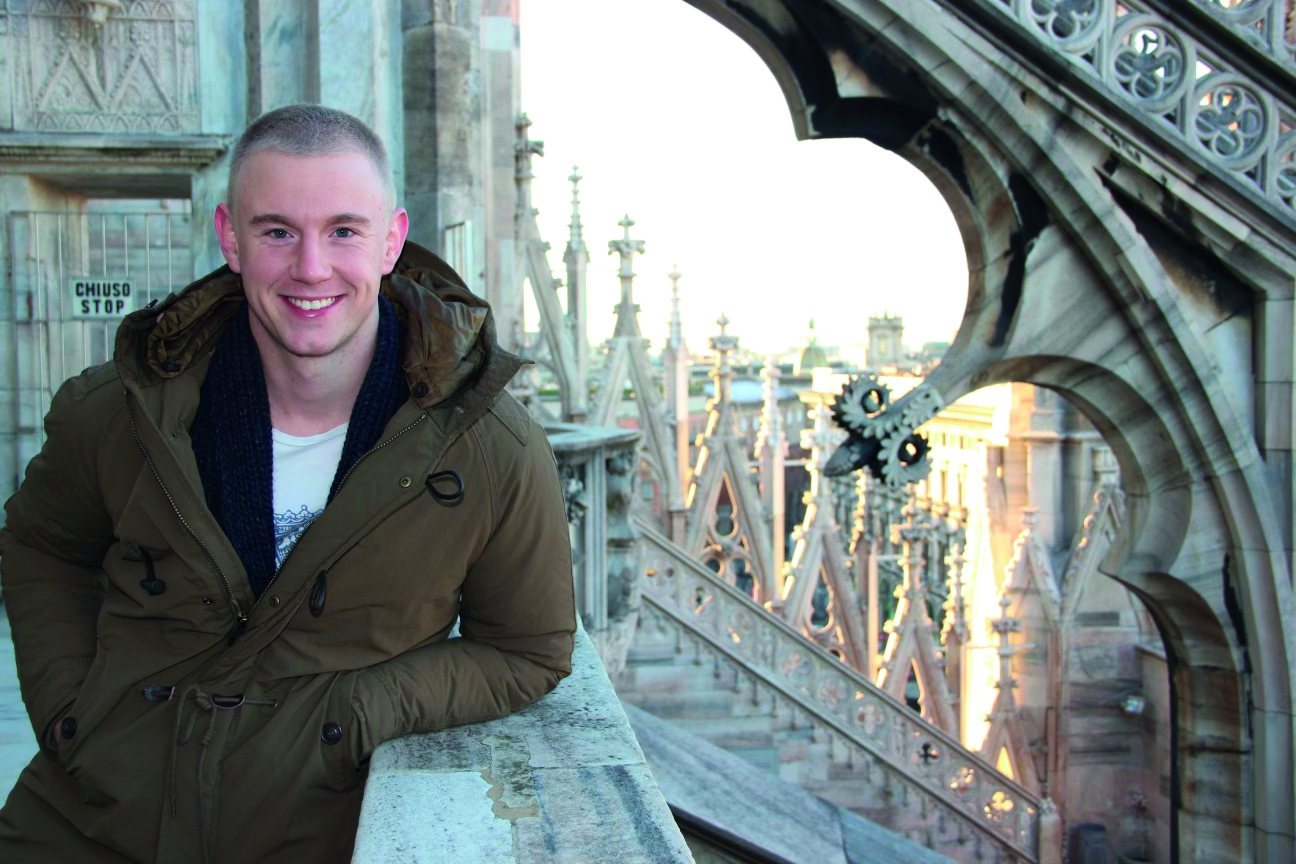 Without speaking the Italian language and coming from a small colonial town in Pennsylvania, United States, this was his first time outside the Eastern Time Zone (EST). He was about to open the door to a new chapter of his life as an exchange student at Università Cattolica del Sacro Cuore. Humid summer weather welcomed him at Milan Malpensa Airport and so did a new way of living. "It was a cultural shock, and to describe it as a shift is an understatement." Still, his choice was in no way wavered by unfamiliarity. If anything, it was the opposite - the new impressions woke him up.
Walking out of the historical university building in awe of the airy rows of white pillars against brick-red architecture to Piazza Sant'Ambrogio and the narrow Milanese streets around it. Passing the most well-dressed people he had ever seen, driving Vespas to work or drinking an espresso at the bar. He would stop by old bookstores, visit local art exhibitions and soon realise this city had everything he wanted. "It offered the best of both worlds. It was a true Italian city, but it also had this energy I was looking for at the time. A characteristic city that was always looking forward and this was perceived not only from the city's vibe but from the people too. To be around that dynamic was inspiring."
He soon became familiar with one of Milan's most renowned events, Salone Internazionale del Mobile. So much more than an annual exhibition showcasing contemporary furniture and design from countries around the world. He quickly fills his agenda by attending all the trendy events and installations at Fuorisalone, a set of exhibitions that animate Milan in correspondence with "Salone" as the locals call it. A week during which the city transforms itself, and all districts in Milan awakens. Every corner of the city explodes with colour and turns into a medium to promote designers' visions. The indescribable energy and life become the foreground of a truly innovative design capital, everywhere you look. A Milan that inspires. Raising its unique voices.
After these events, he would be viewing the city with the same immersed gaze. All around him, there was art: textures of facades, balconies coloured by terracotta pots and flowers. Smiles. Wrinkled hands carrying fresh fruit from the market. Proud buildings and their narratives - and there was one spot especially that filled his heart. Standing on the majestic veranda of Villa Necchi Campiglio, nestled close to the Porta Venezia district in Milan, a green oasis in the middle of the city, he fell in love with the architecture and elegance of the iconic 1930's villa. And it soon became his happy place.
Just as his 13-year-old self would lose track of time while perusing the shelves of antique stores - especially fascinated by the old portraits, or as he saw them, "mirrors to the past." Just like what happened when he got introduced to impressionist artworks for the first time and was struck by this other, more abstract way of viewing the world around him. Just like that, he would now, as a 19-year-old in an international country, find himself with a slowly shifting perspective. He soaked it all in and let the colours, sounds and people of Milan guide him.
And when it was time to go back to the United States, his sudden intuition inspired another decision. "I knew by going back it would mean going back retrospectively in every sense of the word. I wanted to stay longer - I needed to push myself to go even more outside of my comfort zone." Oblivious as to where it was going to take him, and still not knowing what his creative path would be, he enrolled in Università Cattolica's bachelor's degree in Communications and Media Studies. The city that was supposed to write a brief chapter of his life for six months ended up being his home for six years.
As the music shifts and Clair de Lune fills the room, he smiles, and for a moment, he stops painting just to listen to the melody of the piano. Looking around the decorative studio, it is evident that his style and aesthetic has developed since he fell in love with the art of interior design. He promises himself that the next time he goes back to Milan, he will visit the apartment where it all began.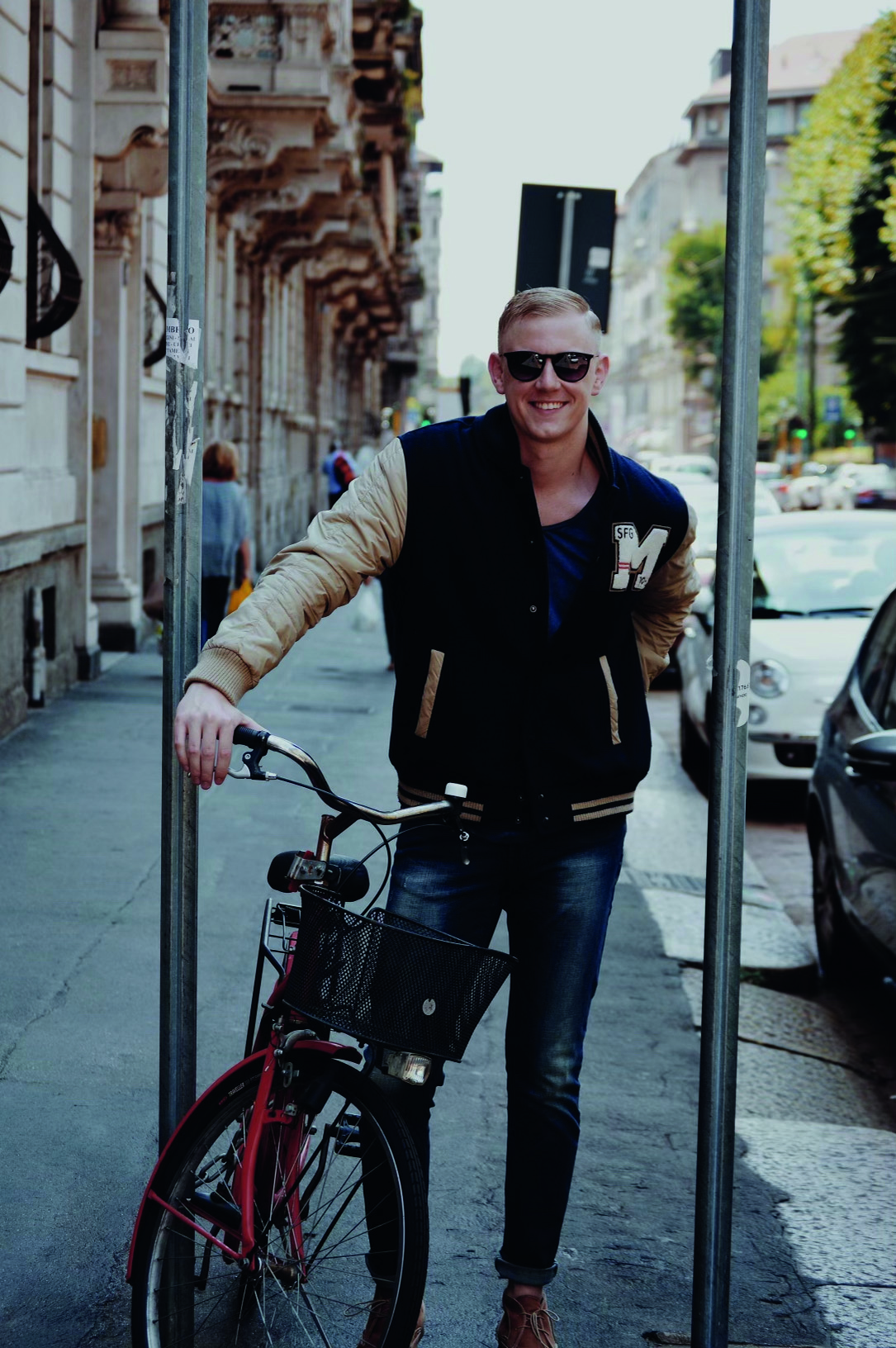 In the neighbourhood Porta Genova, Milan, in a street called Via Savona, there are many stories to be told, and his is one of them. The street runs parallel with the famous Navigli canals where people gather to eat and drink in the evenings, resembling a crowded Café Terrace at Night by Vincent van Gogh and transforms into a vibrant outdoor flea market on Sundays. He had just moved into an apartment that would be the first where he was given the freedom to decorate and express his artistic talent. There was no one to judge, and his roommates were encouraging him and seemed to enjoy the constant and unexpected design changes he would apply and execute within the space. Still a student at the time, his way of decorating an apartment was unprecedented. But it was quintessentially him.
One approach could have made it liveable, beautiful and nothing else, but it was more meaningful for him than that. An old building has not only been the home for breathing and living people but for lifetimes. Carried on its shoulders, imprinted in the scratch of a living room floor, where different tables have been placed and dragged or embodied in a choice of texture. And that's exactly what he wanted to embrace, the history within our space.
He would walk around the neighbourhood and find objects on the street that people had thrown away, repaint them and use them to turn his room into a piece of art. In hindsight, this process of creating would colour his entire way of thinking. "I take that same approach not only to my artwork but to my home, into the way I approach projects, or even when I'm working with clients. Taking those fundamental Old World elements but twisting them and turning them upside down, giving them a new perspective and for people to look at them in a new way."
Living in this apartment was the culmination of putting all build-up inspiration into action, letting his passion be the only guide to what was right or wrong. "It was refreshing because you get to learn a lot about yourself when you leave the outside noise from where you come from and the people that knew you." Just as Milan was fundamental for framing his creative vision, the apartment in Via Savona came to be his very first blank canvas.
However, turning his passion into a career would not be geometric. Even though he felt like he had something to say, an authentic expression to share with the world, he could not imagine it transforming into his livelihood. "I thought I would just be applying my artistic abilities to an organisation or a publication. Never did I think I could take my work and artistry to a full-time job on my own."
After his six years in Milan, he moved his life back to the United States - to New York City to work as a textile designer. "I loved it, but I was essentially fulfilling someone else's creative vision," and he could not escape the feeling that something was missing. Other jobs after that, too, would seem to bring about that indistinct dissatisfaction. Yet, throwing yourself out there, especially with creativity, is daunting. Not only is there a risk of facing defeat, but you are handing over a piece of yourself for the world to judge. It is the zenith of standing vulnerable in the realm of uncertainty.
But he could not let fear be the narrator of his life; he knew the importance of vulnerability by now. Moving to another country and trusting his instinct when deciding to stay, letting his hunger for a new perspective stand above fear. "Every time I look at a chapter in my life that has gone right, it has always been a chapter where I allowed myself to be vulnerable," so that's what he did - with a little encouragement and questioning as to why he doesn't paint for a living. It was a simple question, but at that moment, it was all he needed: it was a confirmation he was ready. And from one day to another, a fire was lit - enough is enough. And thus, once again, he took a leap of faith.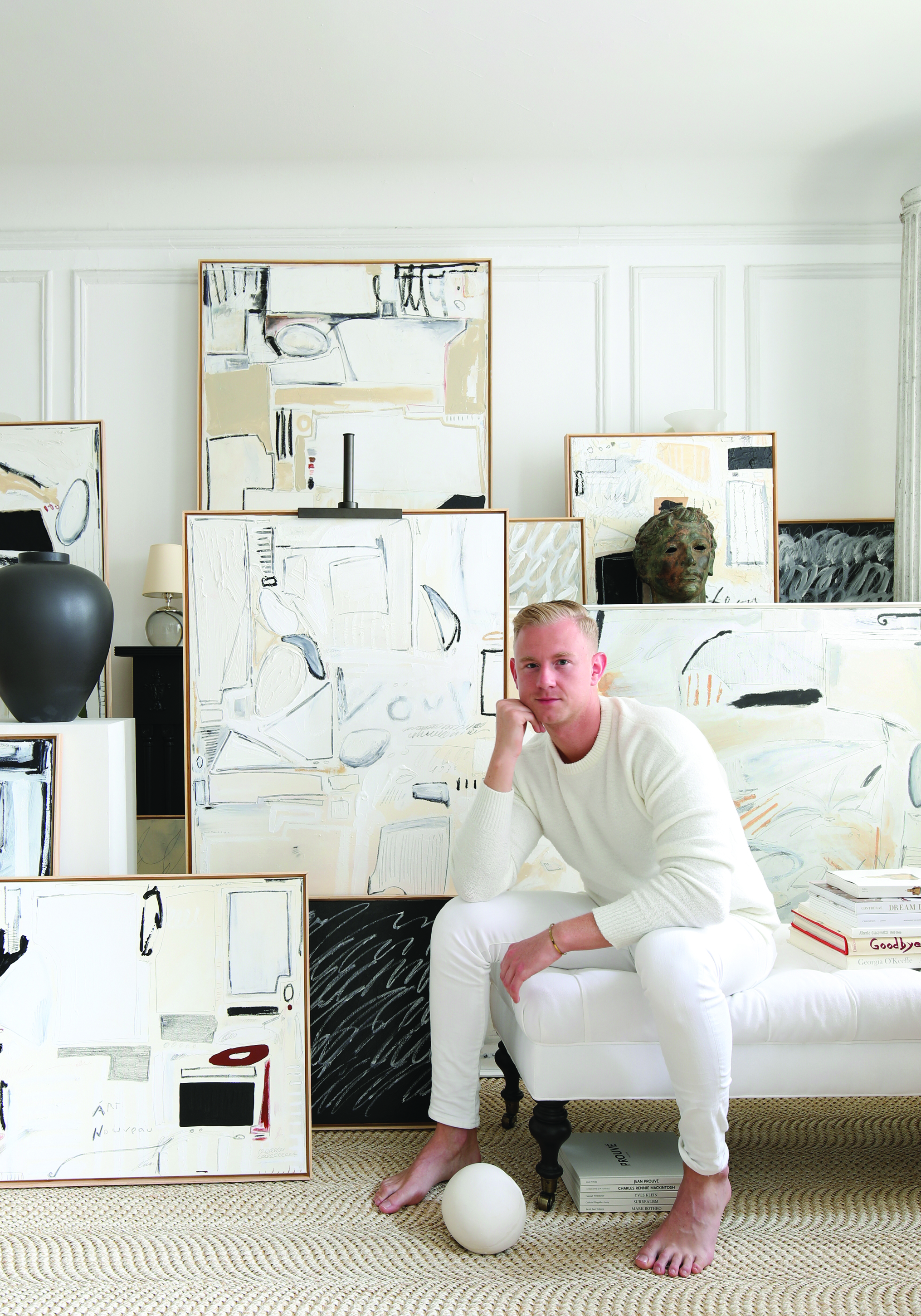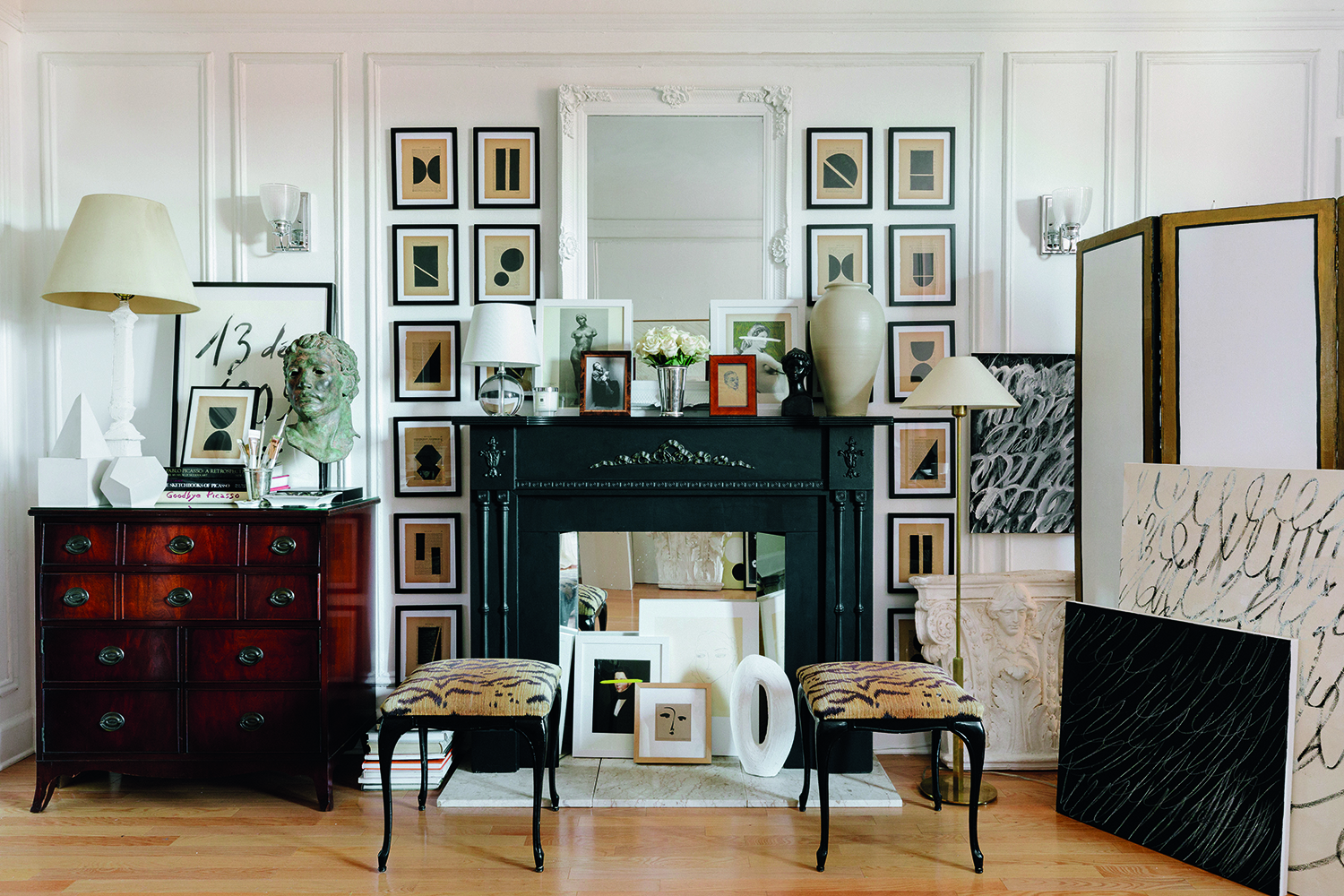 Now he is standing in his Chicago-based art studio, creating for the remarkable business that he built so rapidly. It boomed and exploded into something bigger than he could have ever expected. But regardless of size and recognition, the binder of his company is the simple philosophy to create for yourself and for those who find beauty in that expression. The juxtaposition of Old World elements and what is just brought to life. A timeless meeting. Elegant layers of patience, a different story unfolding each time you observe.
A story about what it means to envision that blank canvas and making it your own. Whether it is a move, quitting a job that doesn't satisfy you, a piece of art you haven't dared to actualise, an idea that still is just that: an idea. A reminder that you owe it to yourself to take your voice seriously. To listen and not to dismiss it - especially when it feels out of reach.
As the familiar rush of creating settles, he turns off the music. The evening is still quiet. His elegant design touch can be seen in the way he dresses, and he remains confident that it was Milan shaping that style too, teaching him the importance of a few versatile pieces that won't go out of fashion. But some things never change. He carries the same smile his friends and family have always known him for, and it would not take long until he one day woke up and decided that he wanted to bring his art to Washington DC, which is where he lives today.
With four collection launches per year, he produces between 40-50 pieces, each inspired and united by a theme or palette. Pages from antique books and his geometric artwork joined in his collection Géométrique. Inspired by early 20th-century Parisian exposition posters, the collection l'Exposition came to life. His art can even arise from 17th, 18th, and 19th century French, Italian and English documents, letters, and engravings, by creating abstract motifs on top of them - his Bibliothèque collection. "It's all about taking something old and forgotten and giving it a new life."
YOU OWE IT TO YOURSELF TO TAKE YOUR VOICE SERIOUSLY.
Knowing this is not the first, nor the last, he adds the final strokes, then he names the painting Porta Genova 1930, and in the bottom right corner, he proudly signs his name - Josh Young.